How much do you know about Drilling Rigs? Maybe you're like most people and just know a drilling machine as a construction piece of equipment that drills holes into the earth's surface. If you don't know much about drilling rigs and want to learn more about them, please read this article carefully.
Drilling machines are ubiquitous in people's lives. It is a construction equipment that drills holes in the earth's surface. It is the most frequently mechanical equipment and is widely used in construction sites, geological exploration, and large-scale infrastructure projects.
It is can be used for a variety of geological exploration, such as taking samples from mineral deposits and testing the physical properties of rock, soil, and groundwater. Drilling rigs can also be used for underground installations: tunnels, shafts or pipelines, and so forth.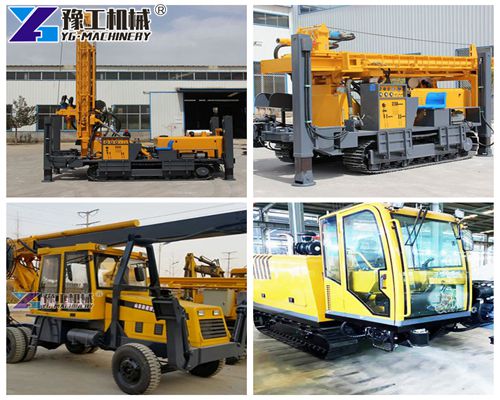 Classification
What are the types of drilling rigs and how to distinguish them? Drilling rigs are generally divided into two categories: small(portable) drilling rigs and large drilling rigs according to their size. Drilling machines vary widely in size: they can be huge structural equipment or lighter devices that require only one person to move manually. Small (portable) drilling rigs refer to drilling machines used for mining drilling, water wells, environmental surveys, etc. The large drilling rig can drill to a depth of more than a thousand meters in the earth's crust.
How To Choose the Proper Drilling Rigs
If you want to buy a drilling machine, you need to determine the purpose of the drilling machine and what kind of terrain it will mainly work on. You can choose from different types of rigs depending on the terrain.
1. When you choose a drilling rig, it is necessary to understand the drilling conditions, drilling depth, hole diameter, coal seam conditions, and drilling angles, and choose the type and model of the drilling rig reasonably according to these parameters.
2. In order to select the most suitable drilling machine for you, it is important to determine the main usage of your rig and its unique technology. In addition, security, reliability, and usability are also important factors to consider.
Using a reliable and easy-to-operate rig according to the YG manufacturer's recommendations increases safety for the operator.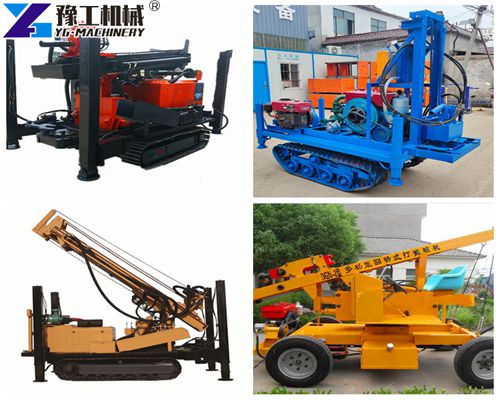 Some Types of YG Machinery Drilling Machines:
1. Core Drilling Rigs
Core drilling rigs are mainly used for the exploration of metal and non-metallic solid minerals. In addition, they can also be used for engineering geological surveys, hydrogeological surveys, oil and gas field surveys and exploration, and water well drills. It is suitable for relatively hard bedrock formations.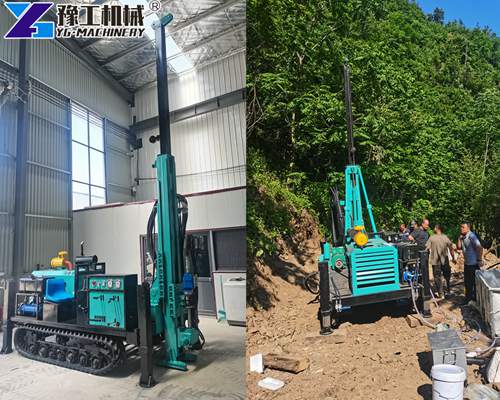 Parameter of YDX Series Crawler Full Hydraulic Core Drilling Rig
Model
YDX-400XL

YDX-600S/GL

YDX-800S/GL
YDX-1000GL
Drilling capacity
Drilling depth
180-400-500m
200-600-650m
400-800-1000m
500-1000-1100m
Drilling angle
0~90°
45~90°
45~90°
45~90°
Max. Torque
500N.m
1000N.m
1300N.m
3500N.m
Rated power/speed
78kW/ 2400r/min
92kW/ 2400r/min
92kW/ 2400r/min
154kW/

2400r/min

Hydraulic Mud pump flow
30-90(L/min)
30-90(L/min)
90-180(L/min)
90-180(L/min)
Hydraulic Mud pump power
4-7(MPA)
4-7(MPA)
4-7(MPA)
4-7(MPA)
Crawler chassis
Walking speed
2.5 km/h
3.5 km/h
3.5 km/h
3.5 km/h
Climbing angle
Max. 45°
Max. 45°
Max. 45°
Max. 45°
Transport  Dimension
4000*1900*1800mm
4000*2000*1800mm
5500*2100*2000mm
6000*2200*2400mm
Weight
4.3T
4.5/5.5T
6.5T
7.5T
2. Rotary Drilling Rigs
The Rotary Drilling Rig is also called a Rotary Drilling Machine, or Pile Driver. It is a comprehensive drilling machine, which can use a variety of bottom layers, and has the characteristics of fast hole formation, less pollution, and strong mobility.
It is mainly suitable for the construction of sandy soil, cohesive soil, silty soil, hard bedrock, and small-diameter gravel layer with poor cementation. It is widely used in various foundation constructions such as cast-in-situ piles, diaphragm walls, and foundation reinforcement.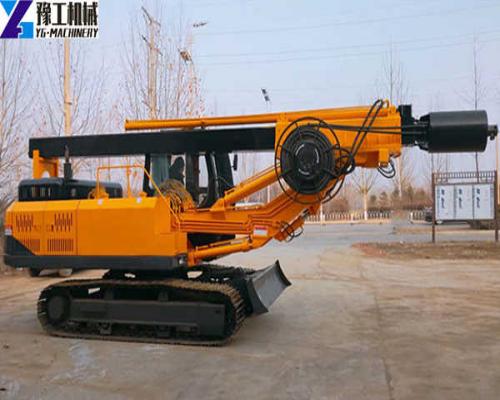 Parameter of YG Rotary Drilling Rigs
| | |
| --- | --- |
| Dimensions (mm) | 7900*2260*3100 |
| Vehicle mass (kg) | 8000 |
| Wheelbase (mm) | 3150 |
| Wheel base (mm) | Front 1400 After 1060 |
| Drilling depth (m) | 13-100 |
| Drilling diameter (mm) | 600-1600 |
| Rotation angle | 180 degree |
| Walking speed (km/h) | 50 |
| Gear pump model | CBJT2080 |
| Hydraulic system working pressure (mpa) | 20-25 |
| Hydraulic system displacement (ml/r) | 80 |
| engine model | 4108 |
| Engine power (kw) | 88 |
3. Water Well Drilling Rigs
Water Well Drilling Rigs can be divided into Crawler Mounted Water Well Drilling Rigs, Tractor Mounted Water Well Drilling Rigs, Trailer Mounted Water Well Drilling Rigs according to their usage and terrain.
It is mainly used for digging soil, limestone, and other soft rocks and it's also recommended to drill hard rock. Water well drilling Rigs are into three types: rotary water well drilling rig, impact water well drilling machine, and compound water well drilling rig.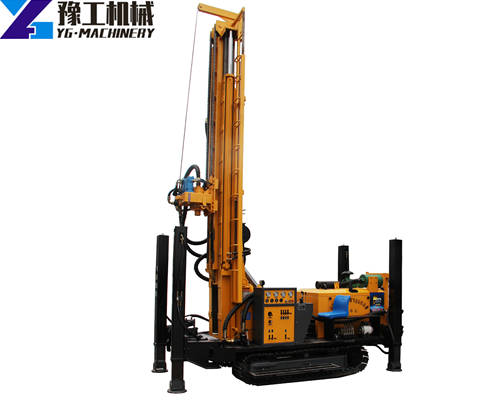 Parameter of YG-XYD130 Water Well Drilling Rig
| | |
| --- | --- |
| Item | Parameter |
| Structure | Rotary |
| Power(diesel engine) | 13.2Kw |
| Work state dimension | 2450*2010*6500mm |
| Weight | 3300kg |
| Drilling depth | 130m |
| Borehole Dia. | Ф300mm |
| Drive Rod | 53*53*4200/Ф50mm |
| Drill bit | Ф200mm |
| Rotary speed | 142/285/570r/min |
4. DTH Drilling Rigs
The DTH Drilling Rig's primary drilling object is a rock formation. It is suitable for large-diameter blast hole rock drilling operations in small and medium-sized mines, road construction, water conservancy, stonework, and drilling anchor holes in slope support, tunnel support, and foundation pit support. Miniature and lightweight, suitable for places where large and medium-sized rigs cannot enact operations, convenient, and flexible. DTH Drilling Rig adopts electric energy as power, with low noise and strong power.
It uses drilling rigs that drill with a rotary cutter and hammer the bottom of the hole with a pneumatic hammer. The excavated material rises to the surface under the pressure of the compressed air used for the hammer. These drilling rigs are powerful and have high drilling rates, especially in rock.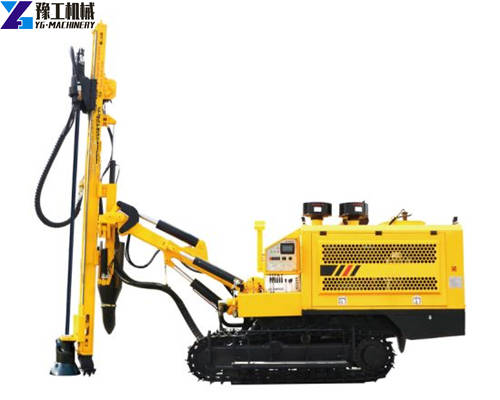 Parameter of DTH Drilling Rigs
| | | | | | |
| --- | --- | --- | --- | --- | --- |
| Model | YGS100A | YGS153 | YGS180 | YGS300 | YGS350 |
| Total Weight | 5.95T | 3.8T | 63T | 6.8T | 8T |
| Walking Speed | 2.5km/h | 2.5km/h | 2.5km/h | 2.2/3.8km/h | 4km/h 2km/h |
| Diesel Tank Capacity | 85L | 70L | 85L | 85L | 225L |
| Shipping Size | 6500X2110X 2400mm | 4640X1980X 2260mm | 6600 X 2110X 2500mm | 6600X2220X 2600mm | 7600X2350X 2800mm |
| Drilling Hole Diameter | 90-146mm | 83-130mm | 90-146mm | 90-152mm | 90-165mm |
| Power Configuration | YCD4R22T-80 | YC2108 33kw/2400rpm | YCD4R22T-80 55kw | YC4DK80-T302 | YC4DK100-T304 73.5kw/2200rpm |
| Highest Horizontal Hole Height | 3.2m | 2.8m | 3.6m | 3.25m | 3.5m |
5. Anchor Drilling Rigs
Anchor Drilling Rig is mainly used for landslides and anchoring projects for dangerous rock masses, and to prevent and control various geological disasters on slopes of hydropower stations, railways, and highways, and is especially suitable for anchoring projects for rock masses on high slopes.
Moreover, it is also used for the support of deep foundation pits in construction cities. Last but not least, including foundation reinforcement engineering holes, blast holes in blasting engineering, and tunnel pipe shed support holes.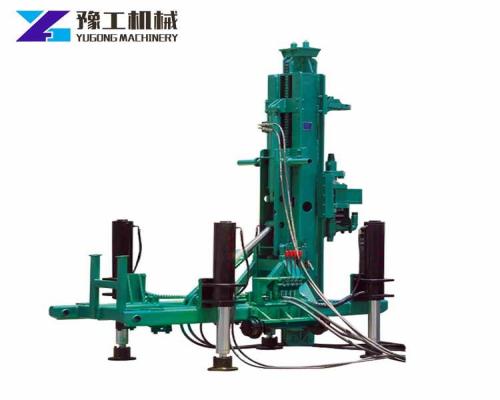 Parameter of YG Small Anchor Drilling Rigs
Model
YGMG40
YGMG50
YGMG70
Drilling depth
10-60m
25-70m
 35-80m
Drilling diameter
90-180mm
90-165mm
 90-200mm
Hole angle
0-90°
0-90°
 0-90°
Drilling rod diameter
76 x 1500mm
76 x 1500mm

89 x 1500mm

76 x 1500mm

89 x 1500mm

Output rotary speed
 90rpm
 70rpm
 70rpm
Rated output torque
 2400N.m
  2500N.m
  3900N.m
Powerhead max stroke
 1800mm
 1800mm
 1800mm
Max lifting force
25kn
 30kn
 35kn
Electric power
4KW
 22kw
 22kw
Dimension
2800*800*1400mm
3000*780*1360mm
 3100*1000*1500mm
Weight
1000KG
1260kg
 1460kg
6. Backpack Drilling Rigs
The backpack core drilling rigs are mainly suitable for areas with high mountains, inconvenient transportation, and a lack of water sources. The series of backpack drilling rigs have a variety of different power drilling rigs. Different power configurations can be better applied to shallow exploration sampling work in different formations and geological conditions.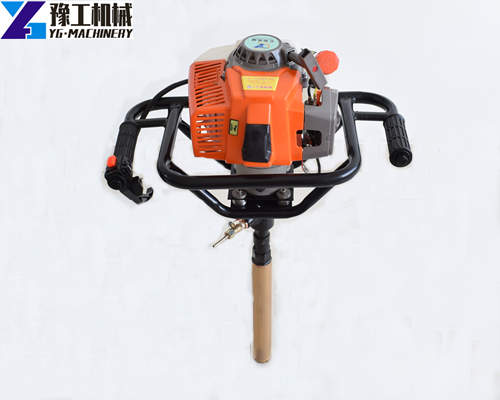 Parameter of YG Backpack Drilling Rigs
Model
YG-20B
YG-30B
Drilling diameter
Φ46-Φ75
Φ46-Φ108
Drilling depth
Within 20m of the soil layer
Within 10m of the rock strata
Within 30m of the soil layer
Within 20m of the rock strata
working geology
Soil layer, loose overburden, various rock strata
Water/fuel consumption
10L/hr–0.4-0.5L/hr
15L/hr–0.4-0.5L/hr
Length of the core tube
750mm
750mm
Drill pipe dia/L
Φ32mm/750mm
Φ32mm/750mm
Drill pipe material/weight
40r/1.5kg
40r/1.5kg
Standard drill bit
2Φ46 diamond drill bits (for hard rock)
Drill bits size
Φ46, Φ56, Φ63, Φ75
Φ46, Φ56, Φ63, Φ75, Φ89, Φ108

Drill bit performance

Φ46 soil<20m, rock<10m
Φ75 soil<8m, rock<5m
Φ46 soil<30m,rock<20m
Φ75 soil<20m,rock<10m
Φ108 soil<10m, rock<6m

Water source

Electric water tank (battery) capacity: 25L

External water source or storage bucket for internal combustion water pump
Dimension(mm)
700*600*800
700*700*1500

Weight

Engine head 20kg, standard 27 drill pipes 40kg.

Powerhead with drill frame 100kg, water pump 50kg, standard 40 drill pipe 60kg.
Conclusion
Because of the different drilling types, there are different ways to get the drill pipe into the borehole, each with its own advantages. To sum up, you need to be based on the terrain of the drilling area, drilling conditions, drilling depth, hole diameter, coal seam conditions, and drilling angle when you select a drilling rig. In addition, the security, reliability, and usability of the drilling machine are also important factors to consider. Of course, the budget is also an important reason for choosing a drilling rig.
No matter which type of drilling machine you need, we can satisfy your needs. The most important thing is that we can provide customized service according to all your desired parameters. If you are interested in the YG machine, please contact us anytime.