YG Water Well Drilling Machine For Sale
Henan Yugong(YG) Machinery Co., Ltd., located in Erqi District of Zhengzhou, is a large engineering machinery manufacturing enterprise that focuses on research and development, production, and sales of drilling equipment in mining, tunnel, road, and bridge construction. Especially the YG water well drilling rig has been in the leading position in the industry. If you need to buy a water well drilling machine, please feel free to contact us. Whether it is a deep Water Well Drilling Rig or a shallow well drilling rig, we can all provide you with the most competitive price. The following will introduce the hot-selling model YG-XYD130 crawler water well drilling rig in detail.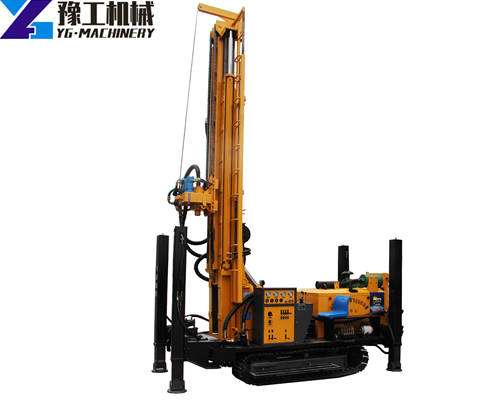 Main YG-XYD130 Water Well Drilling Rig Parameter
| | | |
| --- | --- | --- |
| Item | Unit | Parameter |
| Structure | / | Rotary |
| Power(diesel engine) | Kw | 13.2 |
| Work state dimension | mm | 2450*2010*6500 |
| Weight | kg | 3300 |
| Drilling depth | M | 130 |
| Borehole Dia. | mm | Ф300 |
| Drive Rod | mm | 53*53*4200/Ф50 |
| Drill bit | mm | 75-Ф200 |
| Rotary speed | r/min | 142/285/570 |
Optional Auxiliary Equipment Parameter
Optional Equipment
Item
Unit
Parameter
Water swivel
Max. Lift force
t
13
Matching hose diameter
mm
Ф32
Mud pump
Model
/
BW160
Flow
L/min
160
Pump head
m
25
Reciprocating times
times/min
93
Crawler Parameter
| | |
| --- | --- |
| Item | Parameter |
| Climbing angle | 25° |
| Ground clearance | 270mm |
| Track width | 350mm |
| Track length | 1100mm |
| Speed | 0-10km/h |
| Ground pressure | ≤0.035MPa |
| Weight capacity | 2000kg |
Working Principle Of YG-XYD130 Water Well Drilling Machine
XYD-130 series crawler drill is a mechanical transmission water well and exploration drilling equipment. Its working principle is: the engine export and passes power through the clutch, auto gearbox, and universal transmission shaft, to the rig transfer case. Again by transfer case, the power is passed to the gyrator and winch. The gyrator drives the spindle, drive rod, and drill rods. The winch is used to reduce the drilling pressure, lift drill tools, put down well tubes, and do percussion sampling, etc. Drilling rig power can be separated into drilling force and walking power.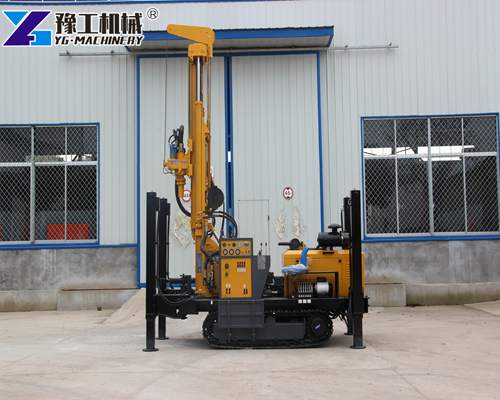 Application Scope
XYD-130 crawler water well drilling rig is mainly used to drill in medium& fine layers and normal soft rock layers, for agricultural irrigation and industrial and agricultural drinking water well drilling and exploration.
Attention
Overload operation may lead to performance descending and shorten the drilling machine service life.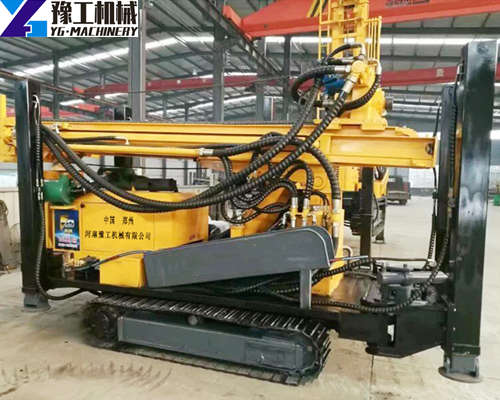 Structure Introduction
XYD-130 series crawler drilling rig structure is mainly composed of four major components: the HZ-130 drilling rig, drill mast, crawler chassis, and accessory tools. The HZ-130 drilling rig is mainly composed of the following parts: 1. Winch, 2. Clutch, 3. Gearbox 4. Power unit 5. Hydraulic control valves, 6. Reducer, 7.1bp cover and damp ring, 8. Gyrator, 9. Hydraulic oil tank, 10. Vertical feed cylinder, 11. Spindle, 12. Frame, 13. Mud pump, 14. Bottom chassis. As shown in the host image. The power unit can be a diesel engine or an electric motor. Drill mast and accessory tools are optional for the customers. Please feel free to tell us your requirement.
Precautions For The Use of Water Well Drilling Equipment
Welcome to choose our company produces the YG-XYD130 series crawler water well drilling machine. In order to make sure you can accurately and efficiently use the product, please pay attention to the below important information.
Before using this water well drilling machine, please read this manual carefully. It will help you be more reasonable and effective to operate the water well drilling rigs.
In order to create more economic benefits for you, prolong the service life of a water borehole drilling machine. Please read this manual carefully. And strictly enforce the rules of the instruction manual, operation, and maintenance.
Please do not arbitrarily modify the water drilling rigs. It would affect rig performance or there may be an accident. It will also be difficult to after-sales warranty service consequences.
Due to the different geological conditions, this manual use recommended by parameters may be different. It requires the user to choose according to the actual situation.
The water well rig can only be operated by workers who are familiar with features and related knowledge of the safe operation, maintenance, and repair. Operators must be trained to be qualified.
The project should not exceed the provisions of the operating instructions, otherwise, it may cause the discount of water well drilling machine performance or malfunction.
In order to improve the quality of the water well bore rig, operational performance, and safety performance. Our company will timely change the drilling machine parts design in. Therefore,  the contents of this manual, appended drawings, and specifications may be an inconsistent and physical place. If this manual is subject to change without prior notice, please understand.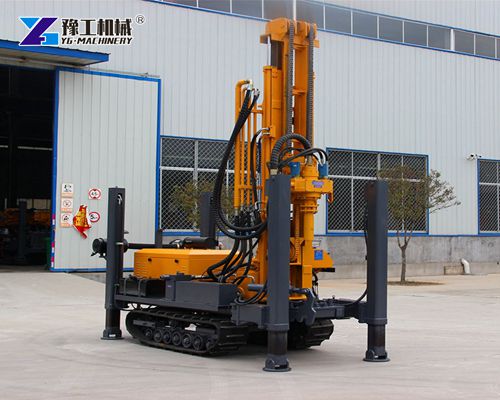 Related Drill Equipment
As a leading Drill Equipment Manufacturer, we have a series of advanced drilling equipment. Whether it is mine development, road, and bridge construction, tunnel excavation, or geological drilling, you can choose YG Machinery to be your best partner. Click a name to know more details. DTH Drilling Machine, Anchor Drilling Machine. Rotary Drilling Rig For Sale. Horizontal Directional Drilling Machine, Mountain Drilling Rig, Backpack Drilling Machine.
Email: admin@ygdrillequipment.com
WhatsApp/Phone:+86 18337123872