What Is A Backpack Core Drilling Machine?
The backpack core drilling machine is small drilling and sampling rig. Backpack core drilling machine applications include geology, engineering prospecting, transportation, mining, urban construction, disaster relief, and other fields. Therefore, the portable core drill machine has gradually become the preferred equipment for small-diameter shallow hole sampling. The hydraulic backpack drilling rig is a portable core drilling rig that can be carried after disassembly. Hydraulic backpack drilling rig usage includes mineral exploration, geochemical exploration, and shallow sampling. Vein exploration, geological research, engineering survey, oil field survey. Hydraulic engineering survey, highway engineering survey, tunnel lining, invert inspection, etc.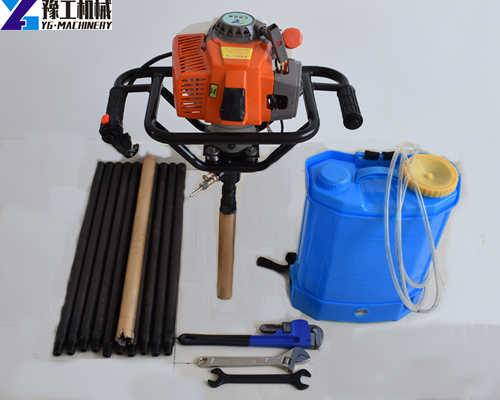 YG Backpack Core Drilling Machine For Sale
We have YG-20B, YG-30B, and YG-50B hot-sell backpack core drill rigs for sale. YG design portable core drilling rig specially for mineral exploration, oil field survey, geological research, and prospectors. Through decades of experience accumulation and field use verification in dozens of countries and regions around the world. We continue to improve and enhance product quality. I believe this set of tools will also be of great benefit to your work. The main features of the YG-50B vertical backpack core drilling rig: are compact structure, detachable, small size, lightweight, and easy to carry. An imported brand gasoline engine, large horsepower, guaranteed drilling depth. With a drill stand, field operations are more convenient and more convenient Safety. The following is YB-50B hydraulic mountain core drilling rig specification. Please click here if you want to know YG-20B and YG-30B portable core drill machine's details.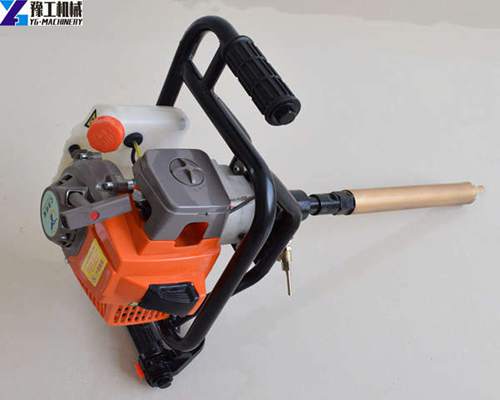 YG-50B Hydraulic Mountain Core Drilling Rig Specification
YG-B50 backpack drill machine parameters
Drilling depth
50m
Maximum opening diameter
φ75-φ108mm
Final hole diameter
56-75mm
Active drill pipe
50/1000mm
Drill pipe diameter/length
Φ42mm/65cm
Drilling angle
90°
Supporting power (diesel engine)
5.8kw(8P)/2200r/min
Structure weight/size
240kg/1400*600*1600MM
Vertical axis
Vertical shaft speed
285-570r/min
Vertical shaft torque
600 N*m
Vertical axis stroke
1000mm
Lifting power
300KG
Pressure
200KG
Drill tower (optional)
Rated load
1t
Effective height
4m
Tower leg specifications
60mm
Mud pump (gasoline centrifugal water pump)
Model
BW-50
Flow rate (water consumption is 3-5 times of 30 drills)
50L/min
Maximum pressure
1.2Mpa
Number of reciprocations
63 times/min
Diameter of suction pipe
φ55mm*2.5m
Diameter of outlet high pressure pipe
Φ20mm*10m
Performance Of backpack Core Drill
-Small rotary core sampling backpack drilling rig.
-All drilling equipment supports single-carrying transportation.
-Two types of drill tool diameters: 26mm and 41mm.
-Newly upgraded high-performance engine.
-Drilling depth up to 23 meters.
-Low drilling cost and wide application range.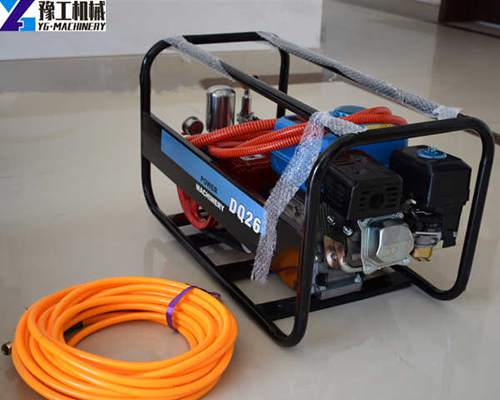 Advantages Of Backpack Core Drill Rig
With its portable and efficient performance, the backpack core drilling machine has been defined as an indispensable shallow sampling tool by users in the industry after many years of practice. In addition, different power configurations are suitable for shallow exploration sampling in different formations and geological conditions. This series of backpack core drilling machines are mainly suitable for areas with high mountains, inconvenient transportation, and a lack of water sources. At the same time, the backpack core drilling machine is easy to operate and can replace traditional trench and well exploration. And it can greatly reduce the destruction of vegetation, thereby protecting the ecological environment. Exploration backpack drill rigs are indispensable drilling equipment in shallow geological surveys such as regional geological mapping, and geophysical and geochemical sampling. Paleomagnetic sampling, and geological disaster prevention.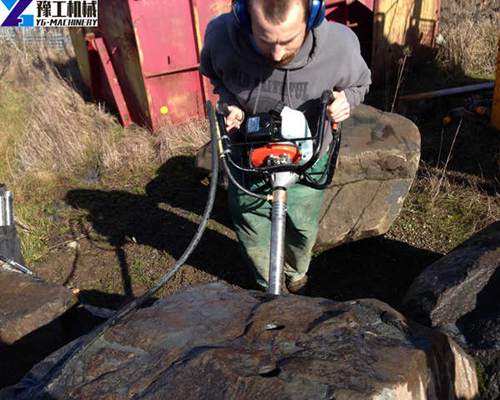 Scope Of backpack Core Drilling Machine Application
Backpack portable core drill equipment is suitable for water well drilling, and general survey prospecting. Geophysical prospecting, road, and construction prospecting, and blast hole drilling projects.
According to the different bottom layers, select Drill bits such as alloy, diamond, and composite sheet.
It can drill sandy clay and rock formations of grades 2-9.
Main Feature
The backpack core drilling machine is compact and portable and is convenient for geological survey work in difficult areas with high altitudes.
The hydraulic automatic feed mechanism is adopted to improve drilling efficiency and reduce the labor intensity of workers.
Use 8 horsepower high-efficiency diesel engine as the power to output a steady stream of strong power for you.
The application of positive and negative four-speed operations is convenient for various terrain exploration and drilling work.
The four sets of bearings in the vertical axle box are positioned to ensure that the gyrator has sufficient rigidity to cope with complex geological conditions such as gravel and pebble.
This backpack core drilling machine adopts the taper clutch of national patent technology, which has the outstanding characteristics of large transmission torque, convenient operation, and maintenance-free.
Use Maintenance Rules
(1) Drilling Procedure And Method Of Unloading Drill Pipe
When opening a hole, start the motor first and operate the drill handle after the normal operation to make it have a downward thrust. After the rock drilling starts, fill the drill pipe with water through the high-pressure water pump. When the first drill pipe is finished, the motor must be stopped to disconnect the joint from the drill pipe, and then connect the second drill pipe, and work in this cycle.
Unloading method: The unloading of the drill rig is carried out semi-mechanically. It is realized by the cooperation of manpower and the drill. When unloading the drill, hold the drill pipe properly and do not let it fall into the hole.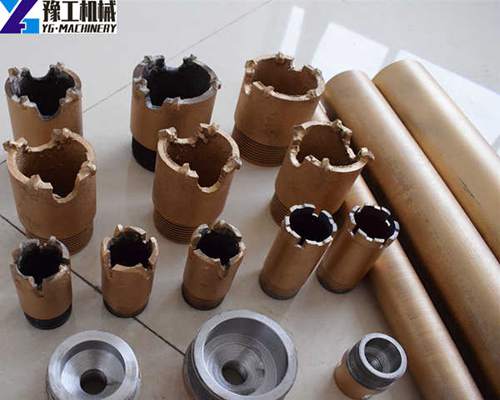 (2) Matters Needing Attention In Operation
Pay attention to checking the connection and usage of the high-pressure water pump, motor, and various joints at any time.
Give more water when drilling to reduce dust.
When adding drill pipes, pay special attention to the cleaning of the holes to avoid stopping drilling accidents.
Adding sufficient engine oil before starting the engine. And filling the four-stroke gasoline engine oil to the engine. The gasoline should be clean, unleaded gasoline with an octane number of not less than 85. Avoid high temperatures caused by friction and eventually burn out the backpack core drilling machine.
(3) Machine Maintenance And Lubrication
At the end of each work shift, remove the dirt on the surface of the backpack drill machine.
It is strictly forbidden to disassemble on the working surface to avoid losing parts and damaging key parts of parts.
Use butter to lubricate the drill pipe joints.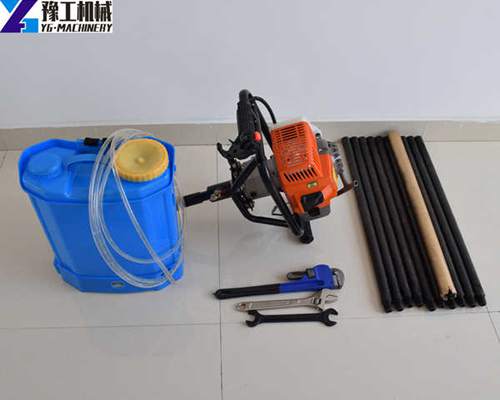 Note: If you only take soil, you do not need to use a water pump. The water pump is used to take the rock core. Please connect the water pump and the backpack core drilling machine when taking the rock core. The water pump is a gasoline engine water pump. Before the first use, you should fill up enough oil and gasoline. Checking the engine lubricating oil before each use to prevent the engine from burning out. Wipe the backpack core drilling machine clean.