A reciprocating pump is a kind of drilling pump commonly used in drilling rigs. Because the liquid transported is mostly mud, it is also called a mud pump. There are many types of drilling mud pumps. According to the number of pump cylinders, there are double-cylinder pumps and triplex mud pumps. According to the number of times the piston reciprocates at one time, there are single-acting pumps and double-acting mud pumps. The efficiency of drilling pumps directly affects the speed and progress of drilling. At present, two-cylinder double-acting mud pumps for drilling rigs and three-cylinder single-acting piston drilling mud pump is mostly used in oil and Water Well Drilling Rigs at home and abroad. This page introduces YG's BW series triplex mud pump for sale.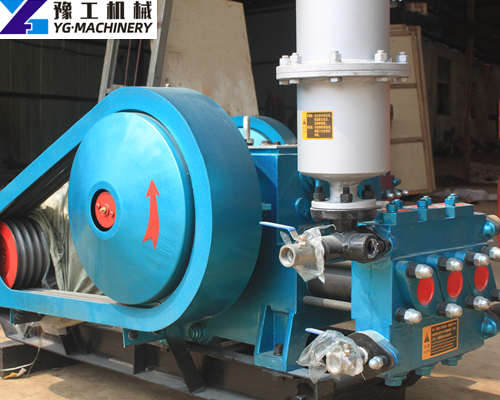 Triplex Mud Pump Parameter
| | | | | |
| --- | --- | --- | --- | --- |
| Model | BW150 | BW160 | BW250 | BW320 |
| Max. Flow(L/min) | 150 | 160 | 250 | 320 |
| Max.Pressure(Mpa) | 7 | 10 | 6 | 8 |
| Power(KW) | 7.5 | 11 | 15 | 30 |
| Suction Pipe Diameter | φ51 | φ51 | φ76 | φ76 |
| Drain Pipe Diameter | φ32 | φ32 | φ32 | φ32 |
| Weight(Kg) | 560 | 480 | 760 | 1000 |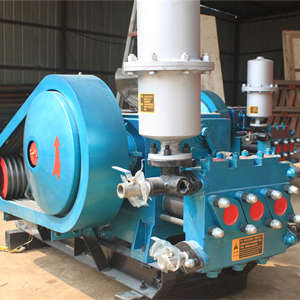 Application
Grouting reinforcement, anchoring grouting.
Pumping thin mud, sewage, and mixed water.
The drilling rig delivers cleaning fluid.
Features
A triplex mud pump is a horizontal three-cylinder reciprocating single-acting piston pump.
A mud pump can use an electric motor or diesel engine.
The pump has the characteristics of stable operation, a wide range of flow rates, high output pressure, and stable performance.
High efficiency and energy saving.
Good detachability, easy to repair and relocate.
Uniform flow and small pressure fluctuations.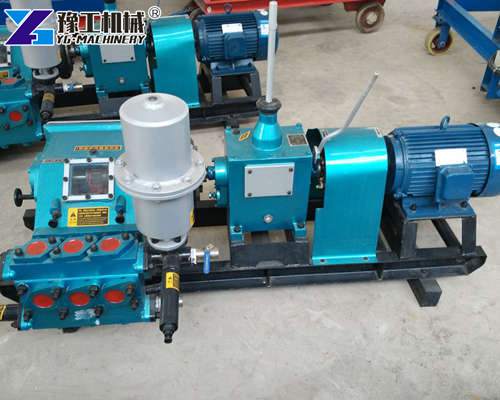 Mud Pump Work Principle
The working principle of the mud pump is exactly the same as that of a general reciprocating pump. The power end of the drilling pump is a set of crank and slider mechanisms. BW series mud pump is a new generation of three-cylinder single-acting piston reciprocating pump developed based on three-cylinder drilling. We did many adjustments and improvements in terms of main structural parameters and unit structure. As a result, it has a smaller volume, a lighter weight, a more stable operation, and longer service life than the hydraulic end-wearing parts.
Classification and difference of drilling mud pumps
A drilling mud pump is a tool for pumping mud or other drilling fluid required for drilling from the storage tank during drilling and then driving it into the wellbore through pipelines and drilling tools. The drilling mud pump is the heart of the drilling equipment and is a piece of equipment in the circulatory system. Drilling mud pump is large-scale equipment. Its application provides equipment that needs large displacement and high-pressure operations.
Plunger pump: a small pressure pump, usually with a small displacement. But it can provide higher pressure. The plunger pump mainly applicant is in the remote control room of the well control equipment to suppress the accumulator.
Fracturing pump: similar to drilling mud pump. A special pump with large displacement and ultra-high pressure can be provided. The operator can adjust the displacement freely. It is mainly used for downhole operations. For example, operations such as formation pressure tests and formation fracturing.
Generally speaking, the difference between them is that the displacement range and pressure range that they can provide is not the same. Drilling mud pumps can provide large displacement, but the pressure is generally not more than 35MPa. The plunger pump has a small displacement and can provide a maximum pressure of about 35MPa. Fracturing pump, large displacement, high pump pressure, the pressure can reach 105MPa or more.
Centrifugal pumps and sand pumps are also used for drilling.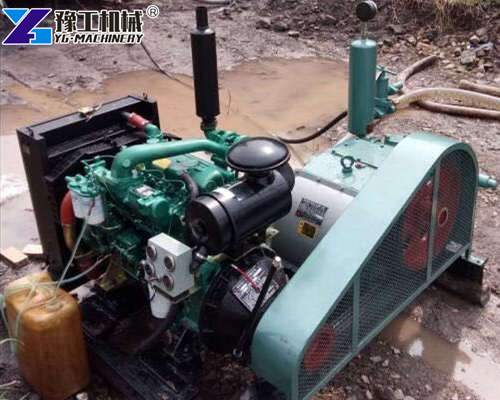 Drilling Tools
YG Machinery specializes in the production and sales of drilling rigs and drilling tools. The drilling rigs include water well drilling rigs. Down the hole drilling rigs. HDD horizontal directional drilling rig. HDD drilling machine price. Rotary drilling machine. Anchor drilling machine. Backpack core drilling machine. The drilling tools include Drill Pipe, Drill Bit, air compressor, mud pump, etc.
Email: admin@ygdrillequipment.com
WhatsApp/WeChat: +86 18337123872