YG HDD Horizontal Directional Drilling Rig For Sale
YG HDD Horizontal Directional Drilling Rig is a construction machine for laying a variety of underground utilities (pipes, cables, etc.) without excavating the ground surface. Horizontal directional drilling rigs have wide applications in the construction of flexible pipelines for water supply, electricity, telecommunications, natural gas, gas, and petroleum. Horizontal directional drilling equipment is suitable for sand, clay, and other ground conditions. But the HDD Machine is not suitable for high groundwater levels and pebble formations. Most non-hard rock areas can be constructed. If you are looking for horizontal directional drilling companies, we will be your ideal choice.
The powerful YG HDD Horizontal Directional Drilling Rig uses horizontal directional drilling technology for trenchless pipeline laying. So you can install the horizontal directional drilling machine quickly and economically. And horizontal directional drilling machine has the lowest impact on the environment and existing infrastructure. Later applications of pipelines include oil and gas transportation, drainage, district heating, high-voltage transmission lines, communication cables, etc. HDD horizontal directional drilling rigs have strong adaptability in bore diameter and length. HDD  machines are mainly used in stable and soft soil and rock formations. In any terrain, you can use YG horizontal directional drilling rig. Contact us to get HDD horizontal directional drilling price list.
YG HDD Drilling Machine Specification
We have a complete series HDD Drilling Machine for sale. Due to the limited space of the webpage, here are the parameters of several popular horizontal directional drilling rigs. If you want to know other parameters HDD drilling machine, please feel free to contact us.
| | | | |
| --- | --- | --- | --- |
| Item | YG450D-L | YG320D-L | YG130C-L |
| Whole machine quality | 14500kg | 10500kg | 4000kg |
| Dimensions (L×W×H mm) | 8450×2320×2650 | 7300×2150×2250 | 5465×1670×2040 |
| Maximum push-pull force | 480/960kN | 350/700KN | 135kN |
| Maximum torque | 27000N·m | 12600N·m | 4500N·m |
| Maximum push-pull speed | 55m/min | 40m/min | 36m/min |
| Maximum rotation speed | 116r/min | 140r/min | 193r/min |
| Engine power | 194kW | 154kW | 93kW |
| Maximum flow of mud pump | 600L/min | 320L/min | 200L/min |
| Crawler walking speed | 3-5km/h | 3.5-6.0Km/h | 2.5-4.5km/h |
| Maximum pressure of mud pump | 10MPa | 8MPa | 8MPa |
| Entry angle | 12-22° | 12~22° | 12-22° |
| Maximum climbing degree | 18° | 18° | 16° |
| Maximum re-expansion aperture | 1300mm | Ф1100mm | Ф700mm |
| Maximum construction distance | 700m | 500m | 200m |
Advantages of YG HDD Horizontal Directional Drilling Rig
Economical and environmentally friendly pipeline installation process.
Wide application of geological conditions: stable loose soil and rocks.
Five basic types of HDD drilling rigs are available.
YG Machinery provides various auxiliary equipment for horizontal directional drilling rigs. Such as high-pressure mud pumps, bentonite mixing equipment, mud-water separation stations, pipe pushers, and other tools and training courses.
Simple design and function powerful.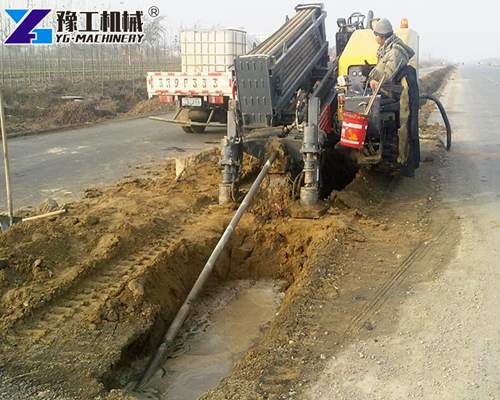 HDD Horizontal Directional Drilling Procedure
Using HDD Horizontal Directional Drilling technology, there are three steps to install the pipeline. Drilling pilot holes, expanding pilot holes, and pipe installation are the three basic steps of horizontal directional drilling. If you want to get a horizontal directional drilling video, please contact us.
First Step
In the first step, use an HDD horizontal directional drilling to drill a pilot hole from the entry point towards the exit. The rotating drill rod is precisely controlled by the direction control system installed behind the drill bit and drills forward along the established line. During the drilling process, the mud pump pumps the bentonite suspension directly to the drill nozzle. In soft soil layers, use high-pressure hydraulic excavation. In the rock formations, use mechanical excavation with the help of mud motors. The bentonite mixes with the muck and flows back to the starting point through the annular gap between the drill pipe and the inner wall of the borehole. The mud-water separation equipment separates the liquid and solid components. And the recovered suspension is sent back to the bentonite loop.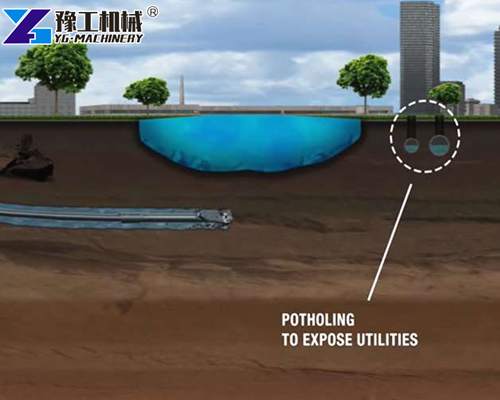 Second Step
The second step is to expand the guide hole. At the excavation port, remove the pilot drilling tool (including the direction control system) from the drill pipe and replace it with a reamer. The mixture of water and bentonite forms support in the expanded borehole to remove the slag and cool all parts at the same time. The reaming operation needs to be repeated many times until the final drilling diameter is reached-the hole diameter is about 30-50% larger than the actual pipe diameter. Leave your message to get a horizontal directional drilling price list right now.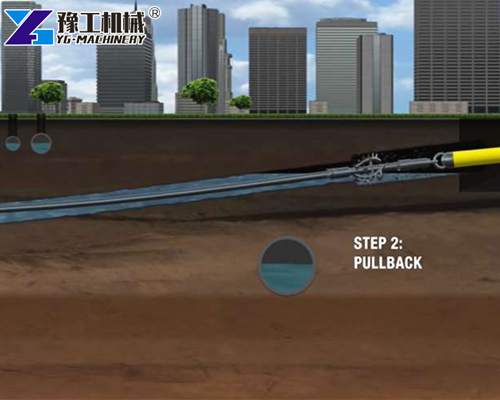 Third Step
The third step is to connect the prefabricated pipe to the drill pipe. Lift the front part of the pipe to form a curved shape, and adjust the entry angle of the pipe to make it consistent with the entry angle of the borehole while keeping the minimum bending radius. In this process, bentonite's function is to reduce the friction between the outer surface of the pipe and the surrounding soil. In a word, as a professional HDD horizontal directional drilling manufacturer, YG Machinery will be your best partner in the amount of horizontal directional drilling companies.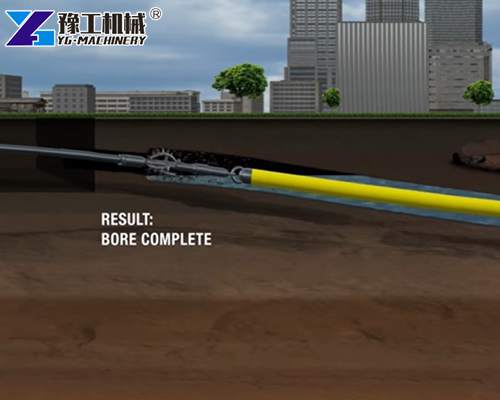 Tube Pusher
Tube pushers provide extra power to achieve long-distance crossing. In the case of long-distance crossing, large pipe diameter, or harsh geological conditions, the traditional horizontal directional drilling technology may have certain performance limitations. Therefore, YG Machinery has developed a tube pusher for this demanding project. When installing the pipeline, the auxiliary thrust provided by the pipe pusher at the end of the pipeline can be as high as 750 tons. Under the combined action of the pulling force of the horizontal directional drilling rig and the thrust of the pipe pusher, the pipe can be pushed into the pipe forcefully, which is light and safe.
YG Horizontal Directional Drilling Companies
YG's horizontal directional drilling rig has five different standard configurations. Horizontal directional drilling companies equip a control room and their own power supply equipment for all models. Powered by a diesel generator set installed in a soundproof container. Which type of HDD directional drilling rig is best for you? That depends on the specific application environment. The power output range of the power supply equipment is from 328 to 940 kilowatts or more. We supply custom services according to your needs. Check here to get HDD Machine Price List.
We can provide all combinations of HDD horizontal directional drilling rigs and auxiliary equipment types. This is also one of YG's advantages. Generally, the integration of trailer-type and modular drilling rigs or compact and crawler-type HDD drilling rigs with electric power devices can be achieved. And they will get approved by the construction site definitely. According to the drag force (80 to 600 tons or 800 to 6000kN). We can divide YG HDD horizontal directional drilling machines into the following types.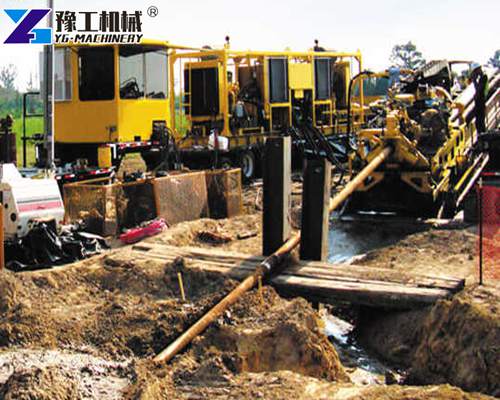 Frame HDD Drilling Rig
Due to its lightweight and convenient transportation, the frame HDD drilling rig has become a reliable and economical solution. This kind of horizontal directional drilling rig does not have its own transportation system. The operator transport it to the construction site with a conventional cargo trailer. For the disassembly and on-site assembly of the rig, a standard crane is sufficient.
Trailer Horizontal Directional Drilling Machine(HDD)
The biggest advantage of the trailer HDD rig is its extremely high flexibility. Thanks to its lightweight design, you can use a semi-trailer truck to transport it to the construction site. What's more, it doesn't need a crane to help it assembly, disassembly, position correction, and debug. This feature makes trailer-mounted drilling rigs especially suitable for projects with long distances between multiple crossing points.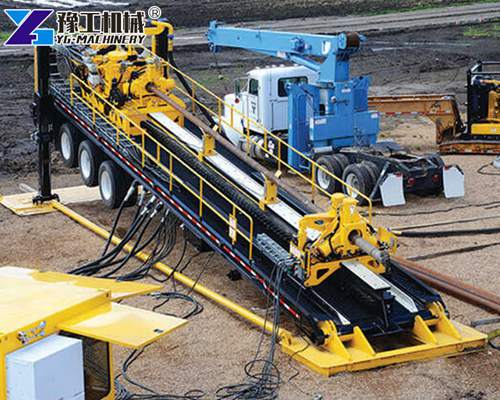 Crawler-Type HDD Horizontal Directional Drilling Rig
Crawler-type horizontal directional drilling rigs can show their talents when the construction site is located in difficult terrain that cannot be accessed by trucks or cranes. In complex terrain, a sturdy and highly maneuverable tracked vehicle is like walking on flat ground.
Modular Assembly HDD Drilling Rig
In order to be able to use horizontal directional drilling rigs in remote areas, YG has developed another innovative solution. We can provide remote-controlled crawler walking devices according to your requirements to further enhance on-site mobility.
Compact HDD Drilling Rigs For Sale
The compact HDD drilling rig is a short and compact horizontal directional drilling rig optimized for small projects and downtown applications. The drilling rig adopts a level 1 (6m/20ft) drill pipe and can be equipped with an onboard main control room and high-pressure mud pump to meet the needs of all customers.
Related Products
As a professional drilling rig manufacturer, we have a series of different drilling rigs to adapt to mining operations, drilling operations, and various engineering construction operations. For example, DTH down the hole drilling machine. Horizontal directional drilling machine. HDD drilling machine price. Anchor drilling machine. Rotary drilling machine. Mountain drilling rig. Backpack drill machine, etc. Also, we provide all related supporting equipment. Such as drill pipes, drill bits, screw air compressors, diesel mobile air compressors, mud pumps, triplex mud pumps, and so on.