YG Machinery has been designing safe, reliable, low-maintenance, and powerful water well-drilling rigs. Its performance is consistently superior to that of manufacturers in the same industry. Our truck water well drilling rig machine makes it easy to get in and out of the job site. All YG Machinery Truck Water Well Drilling Rig Machines are equipped with our patented direct drive hydraulic feed system. This means no need to adjust cables or chains. Most importantly this means no costly post-maintenance. It also means more security for you and your team.
Brief Introduction
YG truck water well drilling rig machine is a kind of truck-mounted middle downhole hydraulic core drilling rig, it mainly uses alloy and diamond bits for core drilling any size of the diameter of the hole. And it was usually used for water well drilling, engineering geological investigation, and big-diameter of hole drilling. the machine moved easily, operated smoothly, and had international dimensions and other characteristics.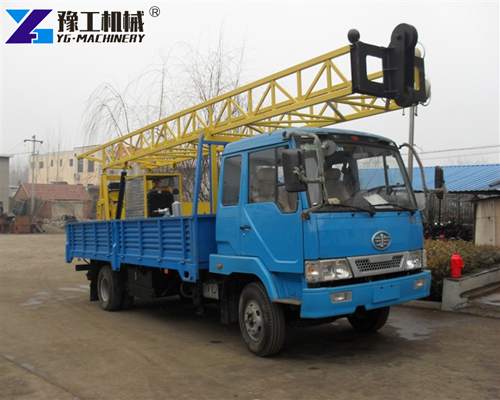 Parameter Of YG Truck Water Well Drilling Rig
Model
YG-XYC-3
Drilling depth
600m
Drilling Hole Diameter
300-75mm
Open Hole Diameter
300mm
End Hole Diameter
75mm
Drilling Rod
Φ60mm
Drilling Angle
90-65
Horizontal Triplex BW-250 Mud Pump
Displacement
250L/min
Work Pressure
7Mpa
Water inlet caliber
75mm
Water to exit caliber
50mm
Drilling Rig Power
Diesel Engine
R4105ZD  76HP
Electric Motor
Y180L-44  22KW
Rotary Spindle
Spindle Forward Speed
30-1050r/min
Spindle Reverse Speed
29-137r/min
Spindle Stroke
560mm
Spindle inner diameter
96mm
Spindle lifting capacity
6000Kg
Gear Oil Pump
Duplex Gear Oil Pump
CBF-F63/25
Front Displacement
63mL/r   20Mpa
Behind Displacement
25mL/r   20Mpa
Main Winch(drive hydraulic system)
Single-line lifting speed
0-45m/min
Tightrope Diameter
14mm
Hoist single-line lifting capacity
4000kg
Roller Diameter
300mm
Roller Cubic Measure
35m
Truck Chassis
Model
CA1083K28L4A
Drive form
4×2
No.
CA4DF3-13E3
Displacement/power
4752mL/96kw
Discharge
GB3847-2005
Application Of Truck Water Well Drilling Rig Machine
YG Machinery's truck-mounted water well drilling rig is an efficient and versatile fully hydraulic water well drilling rig. Because the torque of the turntable is large, the work efficiency is very high. It is widely used in industrial and agricultural water conservation projects, such as well drilling, well testing, or other exploration. Especially for geothermal heating drilling, it can also meet the needs of reinforced engineering foundations, loose gravel drilling rock formations, various projects, etc. Truck-mounted drilling rigs are very popular in countries all over the world because of their convenience.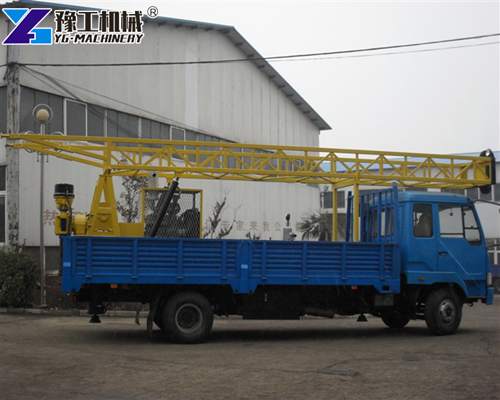 Characters Of Truck Water Well Drilling Rig Machine
The machine is equipped with a BW-250 mud pump. It's a triplex mud pump. Having high pressure and large discharge, it adapts to the big diameter and depth hole drilling.
The main machine is equipped with a shift device, fore-and-aft movement by itself, convenient for operation.
The main winch and minor winch are driven by a hydraulic system, they are installed on the main drilling machine. Compact in the frame. It's adapted to wireline coring drilling.
The machine is mainly used for water well, wire-line coring drilling, geothermic well, general investigation, and exploration. Road and tall building ground-rill exploration and other foundation work.
Ease of operation with engineered design and modern drilling equipment that maximizes power to get the job done quickly and easily while simplifying maintenance and troubleshooting. The control panel is durable and mechanically controlled to simplify operation.
The car chassis adopts high-quality car chassis, on which important accessories such as the drilling rig transmission system, hoist, mud pump, and so on are installed, the layout is reasonable and compact, and the operation is easy.
Overview
Why do more and more people doing engineering projects like to use truck-mounted water well drilling machines? There is no doubt that this is a good choice for the operator because the rig saves time and effort and is efficient. Most notably, YG Truck Mounted Water Well Drilling Machine is very easy to operate, which is the most critical factor for its popularity. It can save the crew a lot of time. The most important thing is that it can save high costs.
In addition, YG Machinery also has other types of drilling rigs, such as Backpack Drilling Rigs, Horizontal Directional Drilling rigs, Rotary Drilling Rigs, Crawler Down-the-hole Drilling Rigs, Trailer-mounted Water Well Drilling Rigs, Small Water Well Drilling Rigs, Full Hydraulic Core Drilling Rigs, etc. The almost 20 experience of YG Machinery in the design and construction of water wells drilling rigs ensures the highest quality and reliability for this field.