YG Anchor Drilling Machine For Sale
An anchor drilling machine is mainly used in landslides and dangerous rock mass anchoring projects in the prevention and control of various geological disasters in hydropower stations, railways, and highways. The anchor drilling machine is especially suitable for high-slope rock mass anchoring projects. An anchor drilling machine is also suitable for the construction of urban deep foundation pit support. Anti-floating anchor rod and foundation grouting reinforcement engineering hole. Blasting hole of blasting engineering. High-pressure jet grouting pile and tunnel pipe shed support hole, etc. Slightly change the power head of the anchoring machine to facilitate all-around construction.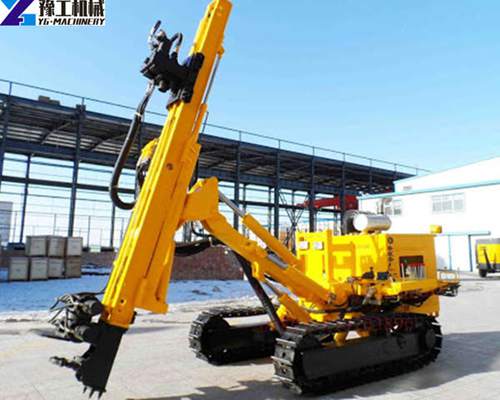 Main drilling methods: conventional down-the-hole hammer drilling, casing pipe drilling, and spiral drilling. In the construction practice of hole-making in various complex formations and different drilling methods. The excellent drilling performance of the YG anchor drilling rig has been recognized by the majority of construction units and peers. YG Machinery has specialized in selling anchor drilling rigs for more than 15 years. So if you are looking for professional anchor drilling equipment for sale, please feel free to contact us.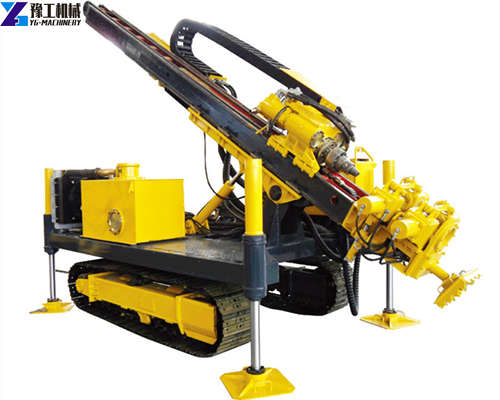 Hot Sale YGMG40 Anchor Drilling Machine
YGMG40 anchor drilling machine is mainly used for the construction of anchor holes, drainage holes, and grouting holes in railways, and highways. Hydropower landslide treatment projects, and dangerous rock anchoring projects. And the construction of blasting holes in blasting engineering and tunnel pipe shed support holes.
YGMG40 anchor drilling machine has a compact structure, lightweight, and has good dismantling, which is convenient for relocation and positioning. YG anchor drilling equipment adopts full hydraulic control, which is convenient and flexible to operate, saving time and effort. The anchor drill rig can be operated remotely. So as to effectively protect the safety of the operator.
YGMG40 anchor drilling machine adopts a Cycloidal slewing motor. The whole machine has stable and reliable performance and long service life.
The anchor drill machine has a wide application range and strong drilling ability. The powerhead has a long stroke and high drilling efficiency.
The powerhead and the guide rail are connected by a new wear-resistant plate, which can effectively reduce the wear of the guide rail. And increase the service life of the guide rail.
YGMG40 anchor drilling rig has a wide range of drilling angles. The drilling positioning is convenient and reliable.
This anchor drilling can be applied to various drilling techniques.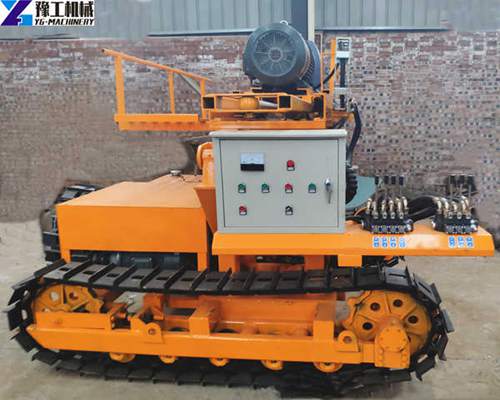 Parameter
YGMG40
Item
Parameter
Drilling Rig
Drilling Diameter
φ90~180mm
Drilling Depth
10~60m
Drilling rod OD
φ76   φ89
Propeller flip angle
0-90°
Powerhead
output speed
42-50rpm
output maximum torque
2400N·m
Maximum stroke
1800mm
Maximum lifting force
25kN
Maximum feed force
20kN
Hydraulic system
Rated pressure
16MPa
Main motor
model
Y100L-4
Power
7.5KW
Weight
Host
570kg
Hydraulic station
355kg
Control console
145kg
Powerhead
235kg
Dimension
Host(mm)
L2800×W800×H1400
Hydraulic station(mm)
L640×W600×H580
We have a complete series anchor drilling machine for sale. Due to the page length limitation, not all anchor drilling rig parameters are displayed. If you want to buy an anchor rig, please feel free to contact us.
Email: admin@ygdrillequipment.com
Advantages of YG Anchor Drilling Rig
Efficient slope protection, movable ground drilling, saving manpower, and improving engineering benefits.
The full hydraulic operating platform is fast-moving and convenient operation.
The slope protection type crawler anchor drilling machine has a reasonable structure design and a wide adjustable angle to meet diversified drilling operations.
YG anchor drilling machine adopts silent processing, with low noise and no pollution, which is suitable for urban construction.
The new style of silent cooling fan disperses the heat of the hydraulic oil tank. Including the smooth operation of the hydraulic system.
The operation is simple, two-person can complete the drilling independently, and the work efficiency is high. Contact us if you want to buy high efficient anchor drilling machine.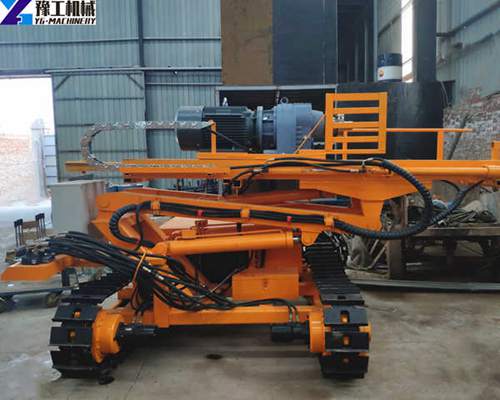 Specific Drilling Method And Equipment Configuration
Three-wing drill bit + spiral drill pipe for drilling. This anchor drilling machine configuration is suitable for high-speed drilling in soil and other strata.
Drill pipe + impactor + diamond drill bit for drilling and air slagging. It is suitable for rock formation and broken layer construction.
Composite drilling of drill pipe and casing. To be equipped with an eccentric drill, free clamp, official boots, and pipe extruder.
If you don't know which drilling method to choose, please tell us your construction conditions. And then, our professional sales manager will provide you with the most suitable plan according to your project type, construction period, budget, etc.
The Specific Application of Anchor Drill Machine
Protection of the downstream of the dam and the impact area of the flood discharge tunnel.
Slope reinforcement, slope retaining, anchoring retaining wall, landslide prevention.
Application in deep foundation pit engineering: basement, underground parking lot, subway, underground street support.
Application in road and bridge foundation reinforcement engineering: prevent bridge foundation sliding, bridge arms, and pier anchorage. The long-span bridge arch structure is stable.
Application in shaft and lane and tunnel surrounding rock support: prevent tunnel collapse and control tunnel deformation.
Other applications: preventing viaduct tipping, retaining wall tipping, etc.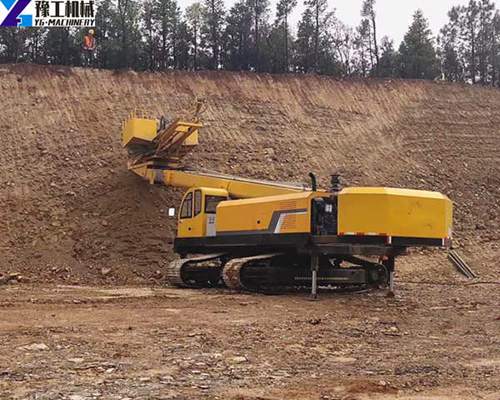 Related Products
In addition to the anchor drill rig, YG Machinery also has other drill equipment. As a professional drill machine manufacturer, we have DTH drilling machines for sale, Truck Water Well Drilling Rig,  Small Trailer-Mounted Water Well Drills, Full Hydraulic Core Drilling Rig machines, HDD Drilling Machines, Backpack Drill Machines, Rotary Drilling Machines, and Water Well Drilling Machines.
Drilling Rig Accessories
We have a series of drilling rig accessories for sale to match the use of the drilling rig. For example, drilling pipe, drill bit. mud pump, triplex mud pump, industrial air compressor, screw air compressor, etc.