YG Industrial Air Compressor For Sale
As a professional machinery and equipment manufacturer, YG Machinery has an industrial air compressors for sale of different types, models, powers, and pressures for sale. According to the types of Air Compressors, we have screw air compressors and piston air compressors for you to choose from. As we all know, screw air compressor types include belt-driven screw air compressors. Power frequency screw air compressors. Variable frequency screw air compressors. Permanent magnet variable frequency screw air compressors. And diesel mobile air compressors. Four-in-one integrated air compressor.
The industrial air compressors produced by YG Machinery are mainly as auxiliary equipment with various YG pneumatic power Drilling Rigs. Of course, if you want to buy an air compressor separately, please feel free to contact us. You need to tell us the working conditions, power, pressure, and airflow requirements of the air compressor. So we can give you an accurate air compressor price for your reference.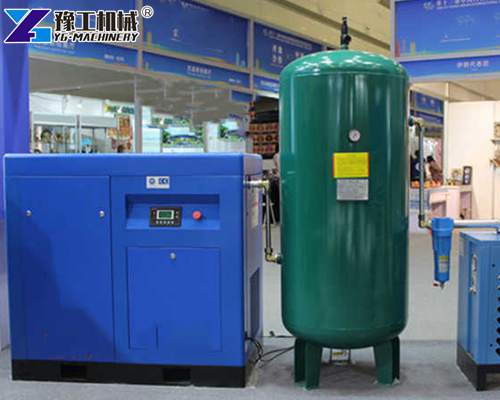 What Is An Air Compressor?
An Air Compressor is a device for compressed air. The air compressor is similar in structure to the water pump. Most air compressors are of the reciprocating piston type, rotating blades, or rotating screws.
From the energy point of view, an air compressor is a working machine that converts the powerful energy of the motive power machine into the pressure energy of the air. Or the air compressor is a machine that increases the pressure of the air and transports the air. Air compressors are extremely versatile. So they are called "general machinery". Contact us to get an industrial air compressor for sale price list.
It is a great misunderstanding to regard air compressors as just a kind of traditional or even ancient mechanical product. In fact, they will never be replaced or disappear. The development of modern high technology will only promote them to a new level of high-efficiency, high-function, and high-tech manufacturing. As well as "green" and intelligent operation. And more and more broaden their use of new fields.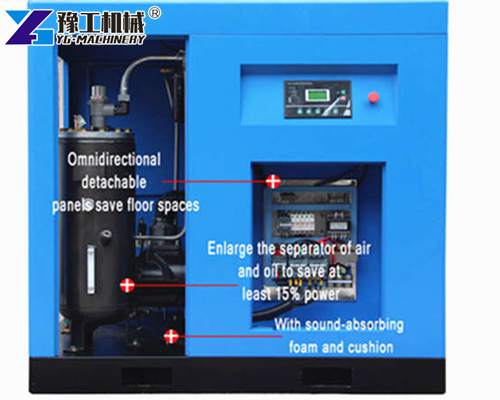 Industrial Air Compressor Classification
According to different ways of compressing air, there are two types of industrial air compressors for sale. One is a positive displacement air compressor. The other is a powerful air compressor.
Positive displacement air compressors, including reciprocating compressors (piston air compressors, diaphragm air compressors) and rotary air compressors (screw air compressors, vane air compressors, scroll air compressors, synchronous rotary air compressors, etc.).
Power air compressors, including jet air compressors and turbo air compressors (centrifugal air compressors, axial air compressors).
YG Machinery mainly has screw-type air compressors and piston-type air compressors with different pressures for sale. What kind of air compressor do you need? Please feel free to tell us your requirement. We will reply to you within 12 hours. Or you can send messages online to us on-duty time. Our online customer service will answer you immediately.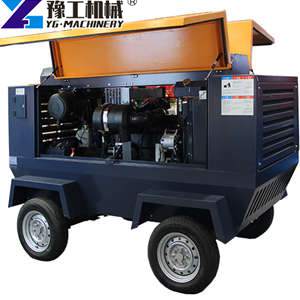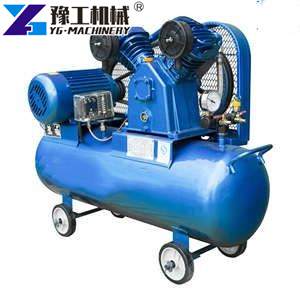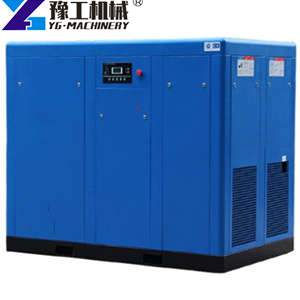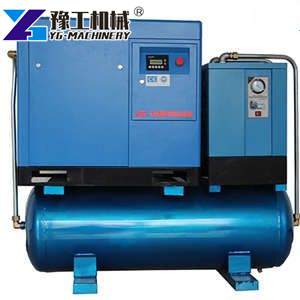 Advantages Of Screw Air Compressor
The screw air compressor has a reasonable structure and an ideal force balance.
Because the screw is not affected by any radial or axial air force. Therefore, the air force on the star gear teeth is very small. Only about 1/30 of the piston air compressor or twin-screw air compressor. Based on the above characteristics, ordinary bearings can be selected for the bearings of the screw and star wheel, which have a long life. In order to improve the meshing accuracy of the star wheel and the screw in the casing, the YG screw air compressor selects high-precision bearings. Contact us to get the YG screw air compressor price list.
The single-screw air compressor has a large capacity and no clearance volume.
When the single-screw air compressor is working, each groove on the screw is used twice in one revolution. So that the groove space can be fully utilized. Therefore, compared with other rotary air compressors, its structure size is smaller. In addition, the screw groove depth becomes shallower as the compression chamber pressure increases and the depth is zero at the end of the exhaust, so theoretically there is no clearance volume. If you are looking for a screw air compressor manufacturer, YG Machinery will be your ideal choice.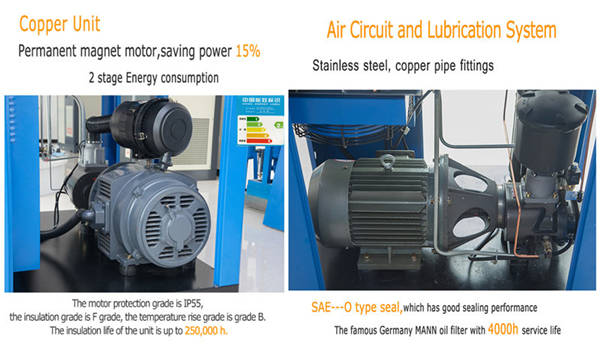 Features Of Piston Air Compressor
Piston air compressors are suitable for a wide range of pressures. It can reach the required pressure regardless of the flow rate. At present, it can reach 3500×105Pa in industry and 10000×105Pa in the laboratory.
Piston air compressors are highly adaptable. That is, they have a wide range of displacement and are not affected by pressure. For example, the maximum exhaust volume of a single machine can reach 500m³/min. And the minimum can be very small. And when the air volume is adjusted, the exhaust pressure is almost unchanged.
The speed of the piston air compressor is not high, and the machine is large and heavy.
Large-scale piston air compressors have complex structures, many wearing parts, and large maintenance volume (but correspondingly low efficiency for maintenance workers' technical requirements).
The exhaust of the piston air compressor is discontinuous, causing airflow pulsation.
As a professional piston air compressor supplier, you can get the best quality piston air compressor at a competitive price. Leave your message right now.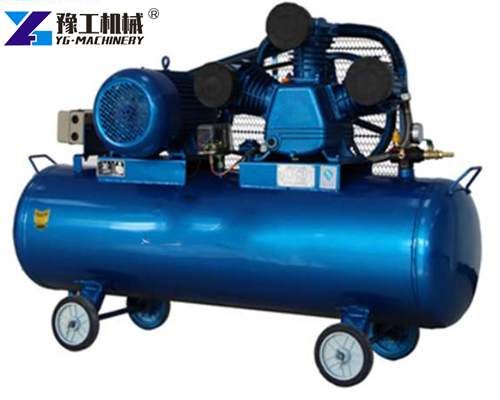 YG Air Compressor For Sale Application
Due to the differences in the structure, working principle, and manufacturing cost of various industrial air compressors for sale. Different air compressors have their own application fields and scopes. For example, air compressors are mainly as traditional airpower for pneumatic tools, rock drills, pneumatic picks, pneumatic wrenches, and pneumatic sandblasting machines. And the start of a large marine diesel engine. Oil well fracturing. Submarine ups and downs, shipwreck salvage, seabed oil exploration, hovercraft, etc. Air compressor's applications also include tire inflation, bottle blowing machines, and industrial control power (driving cylinders, pneumatic components). Of course, in the air separation industry, air compressors are essential equipment. YG machinery air compressors are mainly auxiliary equipment for supporting YG's various air drilling rigs. What type of industrial air compressor for sale are you looking for?
Related Products
As a professional engineering drill machine supplier, YG Machinery has different drill equipment suitable for various construction purposes and environments. Such as Water Well Drilling Rigs, DTH Drilling Machines, Anchor Drilling Machines, Rotary Drilling Machines, HDD Horizontal Directional Drilling Machines, Horizontal Directional Drilling Machines, and HDD Machine Prices. Backpack Core Drill Rig, Portable Screw Air Compressor, Mountain Drill Machine, Drill Bits, Drill Rods, Mud Pump, Triplex Mud Pump, and so on. Please tell us your requirement, our sales manager will reply to you within 12 hours.