YG Crawler Anchor Drill Machine For Sale
YG crawler anchor drill machine is a small simple anchor drilling rig. It is suitable for the implementation of urban deep foundation pit support, and anti-floating anchor rods. Foundation reinforcement engineering holes, shotcrete holes, and blasting engineering holes. A simple anchor drilling machine is mainly used for drilling foundation pits. The powerhead adopts a rotary probe. Twist drill rods and alloy drill bits and other related accessories are used together. The drilling speed is fast, and parallel and vertical drilling can be performed. And the drilling angle can be adjusted freely and retractably, achieving a reasonable and perfect operation method. Contact us to get the crawler anchor drill machine price right now.
Hot Sale Crawler Anchor Drill Machine Models
YG-300 Crawler Anchor Drill Machine Parameter
| | |
| --- | --- |
| Main motor | 22kw |
| Walking motor | 15kw |
| Hydraulic lifting | 3.6 M |
| Drill rod diameter | 80-200mm |
| Weight | 3.5 tons |
| Size (L*W*H) | 3m*2.1m*2.4m |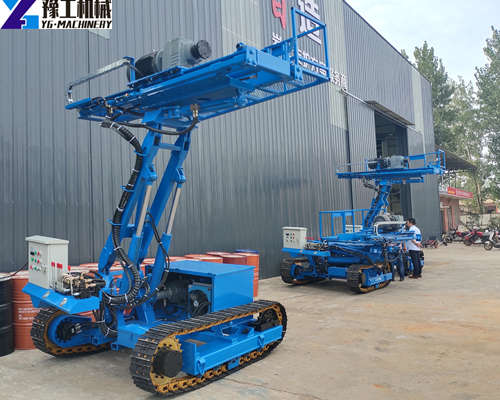 YG-500 Crawler Anchor Drill Equipment Parameter
| | |
| --- | --- |
| Main motor | 22kw |
| Walking motor | 15kw |
| Walking configuration | 9-ton planetary reduction hydraulic motor |
| Power head | R series helical gear transmission |
| Oil pump | high-pressure gear pump |
| Reversing valve | Lugar split multi-way valve |
| Air cooling | super large 1417 air cooling |
| Hydraulic lifting | 5 meters lift |
| Drill rod diameter | 80-200mm |
| Weight: 4 tons | 4 tons |
| Size (L*W*H) | 3m*2.5m*2.4m |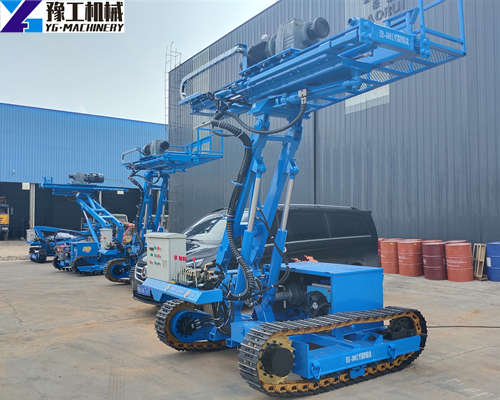 Simple Anchoring Drill Machine
In addition to the above two hot sale anchoring drill rigs, you can also choose the walking power mode of the crawler anchoring rig. We have electric-powered walking anchor drilling rigs and diesel-powered walking anchor drilling rigs. Simple anchor drilling rigs are mainly used for drilling foundation pits, mainly for drilling soil. Standard drilling rig for drilling soil. According to customer requirements, a down-the-hole drill bit can be added to the host to be equipped with an impactor for rock drilling. Drilling hole diameter range: 90-230mm.
Electric-Powered Walking Anchor Drilling Rigs
| | |
| --- | --- |
| Main motor | 22kw |
| Walking motor | 7.5kw*2 |
| Hydraulic lifting range | up to 3.3m |
| Weight | 3.5 tons |
| Size (L*W*H) | 3m* 2.1m * 2m |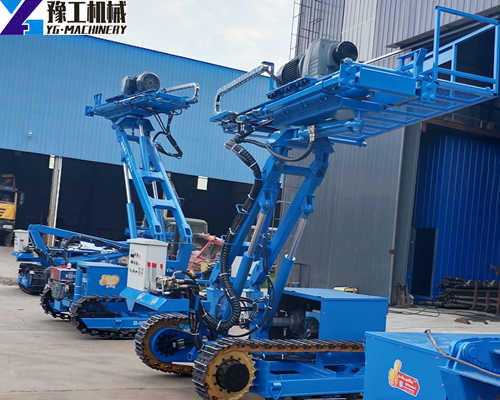 Diesel-Powered Walking Anchor Drilling Rigs
Main motor
22kw
Diesel engine
15 hp
Hydraulic lifting range
up to 3.5m
Drilling hole diameter
90-230mm
Diesel walking belt shock absorption and deceleration function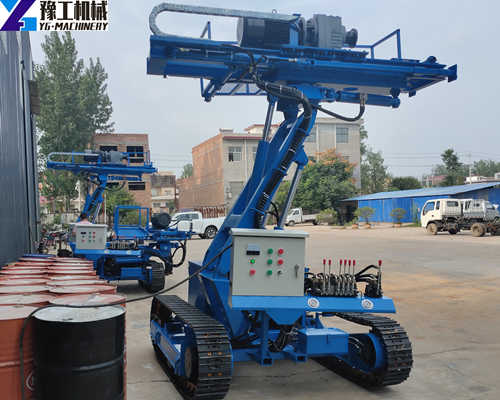 Product Advantages
Efficient slope protection, movable ground drilling, saving manpower, and improving engineering benefits.
The full hydraulic operating platform, is fast-moving and convenient operation.
The slope protection type crawler drilling rig has a reasonable structure design and a wide adjustable angle to meet diversified drilling operations.
The crawler anchor drill machine adopts silent processing, with low noise and no pollution, which is suitable for urban construction.
The new silent cooling fan disperses the heat of the hydraulic oil tank, including the smooth operation of the hydraulic system.
The operation is simple, two people can complete the drilling independently. And the work efficiency of the anchor drill machine is high.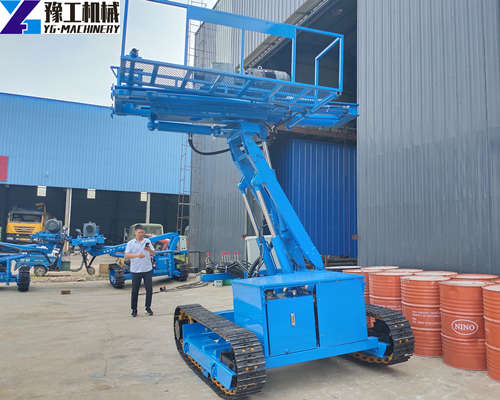 Features
The digging speed is fast, and suitable for rock-soil doping engineering. And crawler anchor drill machine has a strong impact on the hard rock that encounters the meaning of the soil when the slope protection is drilled. The layered alloy drill bit produced by the company can achieve rapid advancement;
Reasonable hydraulic framework platform to reduce redundancy and improve the overall coordination of equipment;
Multi-arm pitch adjustment, perfectly adapted to slope protection and foundation pit support, in line with industry-specific design;
It is fuel-efficient and durable. It adopts an enlarged hydraulic oil tank and reasonably distributes the flow direction of the hydraulic pipe to reduce the waste of fuel consumption;
Electric drive, low noise, suitable for urban construction deep pit support and subway and airport slope stabilization projects.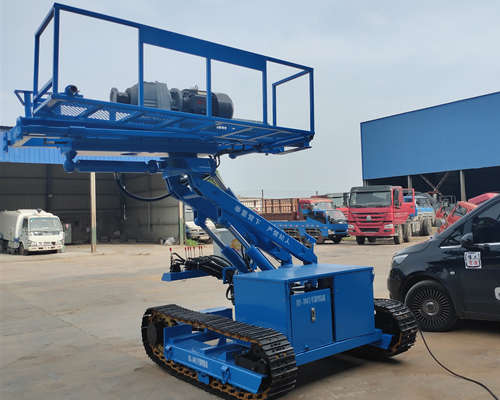 If you need an anchor drill machine, please feel free to contact us.
Drilling Machine Series
YG Machinery is a professional drilling machine manufacturer from China. We have a series of drilling rigs suitable for different working conditions and geology. For example, a Large Water Well Drilling Rig. Small Water Well Drilling Rigs. DTH Drilling Machine. HDD Horizontal Directional Drilling Rig. Anchor Drilling Machine. Rotary Drilling Machine. Backpack Core Drilling Machine. Truck Water Well Drilling Rig Machines, Full Hydraulic Core Drilling Rigs, Crawler Anchor Drilling Rigs, Backpack Drilling Rigs, Crawler Down-the-hole Drilling Rigs, and Mountain drilling machines. And a series of matching drilling tools. Drill pipe, drill bit, air compressor, mud pump.