Over many years, the YG series crawler hydraulic core drilling machine has established itself a reputation for reliability and ease of use. Many YG Machinery drilling rig machines are available on a simple platform, a trailer platform, with crawler tracks, or a truck-based construction solution. YG Machinery's crawler hydraulic rope coring drilling rig is available with a rod handler system which helps to reduce operator fatigue and increases safety. The hydraulic crawler drilling rig has a wide application, such as mining exploration, water well drilling, trenchless drilling, and so on. If you are looking for a hydraulic drilling machine for exploration, drilling projects, or other works, please contact us and we will provide comprehensive service for you. Phone/Whatsapp/Wechat: +86 18337123872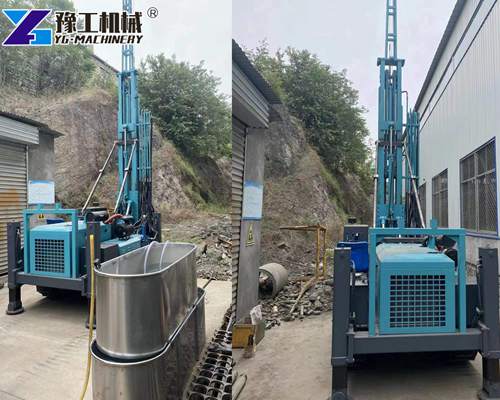 Hydraulic Core Drilling Machine for Sale
Hydraulic core drilling machine also known as crawler hydraulic coring exploration. YG series crawler exploration core drills is a new type of drilling rig independently developed by YG Machinery on the basis of years of experience in core drilling rigs, mine drilling rigs, water well drilling rigs, trenchless drilling rigs, etc., combined with wireline coring diamond drilling technology.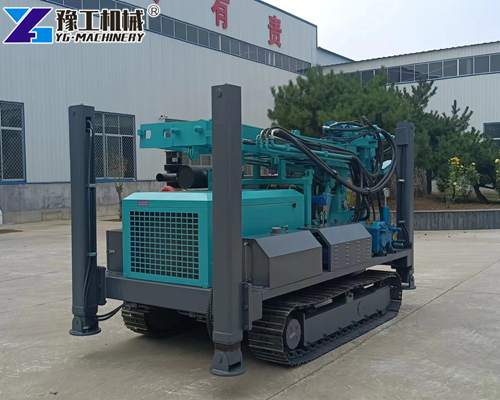 Best Sale Crawler Type Core Drilling Rig
The crawler hydraulic core drilling machine rig's new propulsion mechanism is combined with the main winch to lift the drill pipe, and the slewing head directly lifts the sliding frame in the process to improve the working efficiency. It is equipped with reverse circulation components, suitable for reverse circulation coring operations. Multi-pump combination system, more reasonable power matching, and improved formation applicability.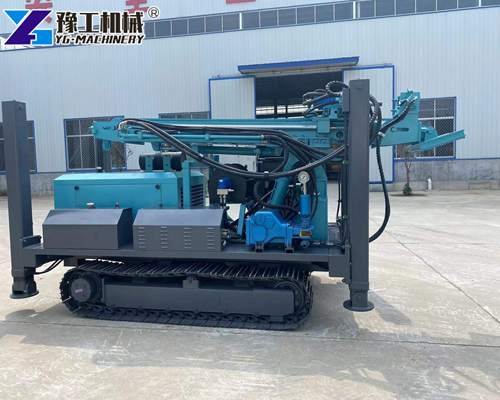 Technical Parameters of the Core Drilling Machine for Mining
                    Model

YG300
YG400
YG500
YG600
YG800
The weight

(T)

5.3
5.4
6.7
8.1
9.2
The hole diameter

(mm)

60-110
60-110
60-110
60-110
60-110
Drilling depth

(m)

300
400
500
600
800
Drilling angle

(°)

45°-90°
45°-90°
45°-90°
45°-90°
45°-90°
Engine power

(KW)

75
85
96
118
132
Gradeability

(°)

30
30
30
30
30
Walking speed

(KW)

2.5
2.5
2.5
2.5
2.5
Drill pipe length

(m)

1.5
1.5
1.5
1.5
1.5
Lifting force(T)
10
10
10
12
14
Slewing speed

(rpm)

0-1200
0-1200
0-1200
0-1200
0-120
Dimension

(mm)

4500*1950*2150
4500*1950*2150
4600*2000*2350
5100*2200*2350
5150*2100*2150
Main Features of the Crawler Hydraulic Core Drilling Rig
Adopt high technology. The structure of the power head is the double motor and mechanical shift. It has a wide range of speed changes and a large torque at the low-speed end. It can meet the requirements of different drilling methods.
The power head has the advantages of high transmission accuracy, stable operation, and deep-hole drilling.
Its feeding and lifting system adopts the cylinder chain multiplication mechanism, which has a long feeding process and high operation efficiency.
The drilling machine has the advantages of fast feeding speed, saving auxiliary time, and improving drilling efficiency.
The guide rail of the main tower is of a V-shaped structure. The power head is connected to the main tower with strong rigidity and stable rotation at high speed.
Adopt the way of automatic opening for the power head.
The hydraulic drilling machine is equipped with a clamp and a shackle, which is convenient for dismantling the drill pipe and reduces labor intensity.
The hydraulic system of the drilling rig is designed according to high technology. The rotary motor and main pump are plunger-type, so it is convenient to operate.
The mud pump is hydraulically controlled, and various drilling machine operations are centralized.
Hydraulic Core Drilling Machine Supplier
We are one of the most famous leading suppliers of drilling rig equipment in China. The hydraulic core drilling rig machine is specialized with a unique set of demands. For more than 18 years, people worldwide have depended on our drilling rigs to deliver excellent construction results. Our crawler hydraulic core drilling range includes a varied selection of machines to suit all the different environments and situations which can occur in the tough and demanding area of exploration drilling.
Related Products
In addition, our Truck Water Well Drilling Rig Machines, Wheeled Rotary Drilling Rigs, Tractor Mounted Borewell Drilling Rig Machines, Full Hydraulic Core Drilling Rigs, Crawler Rotary Drilling Rigs, Water Well Drilling Rigs, Anchor Drilling Rigs, Backpack Drilling Rigs, Down-the-hole Drilling Rigs, Horizontal Directional Drilling Rigs are also popular. You can also consult us according to your needs. Phone/Whatsapp/Wechat: +86 18337123872