On April 10, 2023, a Thai customer purchased 10 sets of Wheeled Rotary Drilling Rigs from YG Machinery. The customer Thong gave our company a high degree of trust when he cooperated with us for the first time. He visited our factory three days before the purchase, met the relevant engineers, and had a detailed understanding of all aspects of the product. After returning to Thailand to communicate with his team, he immediately placed the order. YG Machinery attaches great importance to this cooperation. Since the customer Thong contacted us, we have been in close contact with each other, answering all questions and responding to requests. It is precisely because of our sincere service that we have won the trust of our customers and their teams. Contact us to learn more about Wheeled Rotary Drilling Rig.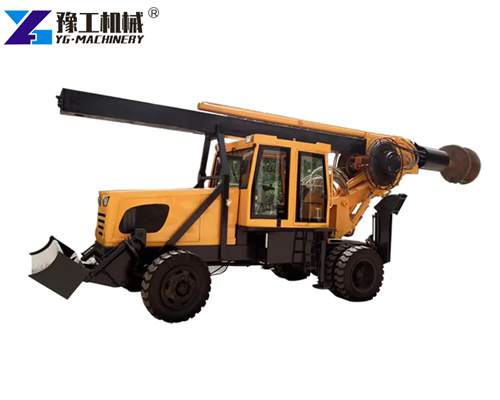 Brief Introduction
The wheeled Rotary Drilling Rig is also called a wheeled Rotary Pile Drilling Rig. It is a new type of rotary drilling rig. The upper body of the rotary drilling rig is mounted on the chassis of the truck crane through slewing support. The Wheel Rotary drilling rig has the advantages of flexible maneuverability, small tonnage, simple operation, 360-degree free rotation, wide application range, high construction efficiency, stable performance, ultra-fast piling speed, fast movement, convenient special field, small investment, and fast return.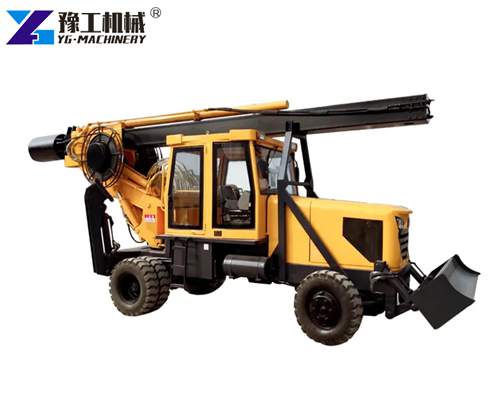 YG Wheeled Rotary Drilling Rig For Sale
YG Wheel Rotary Piling Rig machine has the characteristics of simple operation, strong stability, ultra-fast piling speed, and fast movement. And we are one of the most professional rotary drilling rig machine manufacturers. If you buy a rotary piling machine from us, you will get the best rotary pile machine price. Small investment and quick return. According to the model you purchased, we will calculate the shortest time for you to recover the investment cost of the machine.
Parameter
| | |
| --- | --- |
| Dimensions (mm) | 7900*2260*3100 |
| Vehicle mass (kg) | 8000 |
| Wheelbase (mm) | 3150 |
| Wheelbase (mm) | Front 1400 After 1060 |
| Drilling depth (m) | 13 |
| Drilling diameter (mm) | 600-1600 |
| Rotation angle | 180 degree |
| Walking speed (km/h) | 50 |
| Gear pump model | CBJT2080 |
| Hydraulic system working pressure (Mpa) | 20-25 |
| Hydraulic system displacement (ml/r) | 80 |
| engine model | 4108 |
| Engine power (kW) | 88 |
Application Of Wheeled Rotary Drilling Rig
Wheeled Rotary Drilling Rig is a construction machine suitable for hole-forming operations in building foundation engineering. A wheeled Rotary Pile Drilling Rig is mainly suitable for constructing sandy soil, cohesive soil, silty soil, and other soil layers. It is widely used in the construction of various foundations such as cast-in-place piles, continuous walls, and foundation reinforcement. The product is suitable for constructing drilling and grouting piles for urban construction projects, farmland water conservancy, highway construction, municipal engineering ports, and other pile foundation projects.
Working Principle
Wheeled Rotary Drilling Rig first uses the barrel drill bit with a valve at the bottom to rotate and break the rock and soil, directly loads it into the drill bit, and then lifts the drill bit out of the hole to unload the soil by the winch and the telescopic drill rod, so that the cycle Reciprocating, continuously fetching and unloading soil until the designed hole depth is drilled.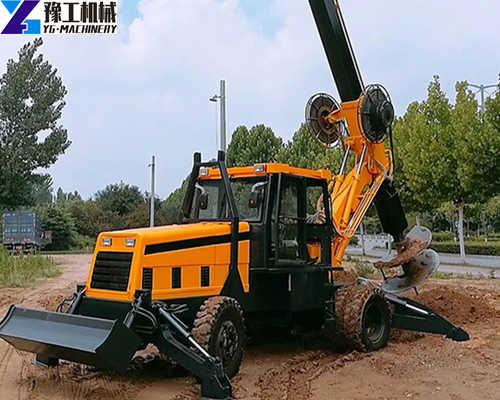 Features Of Wheeled Rotary Drilling Rig
It adopts road condition adaptive intelligent all-terrain off-road chassis, multi-axle steering intelligent control, and small turning diameter.
The hydraulic top driving power head is equipped with a floating device, which can effectively reduce the wear of drill pipe thread and improve the service life of the drill pipe.
The double-speed feeding system of crowd cylinder and wire rope is adopted, and the slow feeding mode is designed, so that construction safety and efficiency can be guaranteed.
It can be equipped with an independent automatic rod changing system, which can be used with the top driving power head which can be tilted to realize the full automation of pipe loading and unloading.
Advanced and efficient hydraulic control system, the main actions adopt proportional control, speed regulation is convenient, with high control precision.
It can quickly realize the top break-out operation of drilling tools and can be used with power slips.
A closed operation room is adopted to effectively isolate noise and dust on site, greatly improving the operating environment.
Overview
Over the past 18 years, YG Machinery has devoted itself to the research of various pile foundation construction techniques, trenchless pipeline construction techniques, and special drilling construction equipment, and has carefully developed a series of rotary drilling rigs for bored piles; diaphragm wall construction equipment for groove formation and non-excavation. A series of horizontal directional drilling rigs for excavation and laying of pipelines; a series of water well drilling rigs specially used for drilling wells; and so on. Various series of drilling rigs meet the needs of various types, specifications, and layers of pipeline construction equipment. The equipment has high construction efficiency and good safety and stability.