The Full Hydraulic Core Drilling Rig is a relatively advanced core drilling rig. It has gradually replaced the vertical shaft drilling rig as the mainstream equipment for geological exploration in developed countries. What's more, it cannot be denied that the role of crawler fully hydraulic core drilling rigs is more prominent in developing countries.
The Crawler Full Hydraulic Core Drilling Machine is a new type of drilling rig developed on the basis of the advanced technology of similar drilling rigs. It is mainly suitable for drilling solid mineral deposits. It can also be used in engineering geology, shallow oil, natural gas, and groundwater drilling. Most importantly, it can also be used for engineering drillings such as tunnel ventilation, drainage, and dam grouting.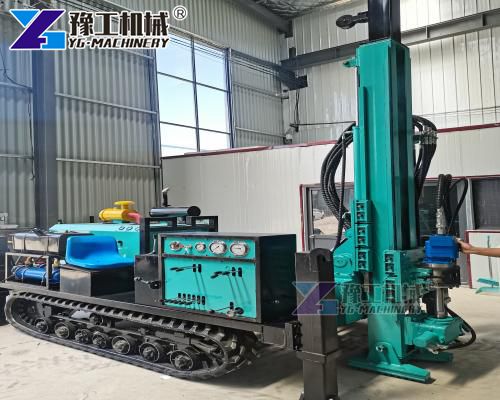 Parameter f YG Series Crawler Full Hydraulic Core Drilling Rig
Model
YG-400XL

YG-600S/GL

YG-800S/GL
YG-1000GL
Drilling capacity
Drilling depth
180-400-500m
200-600-650m
400-800-1000m
500-1000-1100m
Drilling angle
0~90°
45~90°
45~90°
45~90°
Max. Torque
500N.m
1000N.m
1300N.m
3500N.m
Rated power/speed
78kW/ 2400r/min
92kW/ 2400r/min
92kW/ 2400r/min
154kW/

2400r/min

Hydraulic Mud pump flow
30-90(L/min)
30-90(L/min)
90-180(L/min)
90-180(L/min)
Hydraulic Mud pump power
4-7(MPA)
4-7(MPA)
4-7(MPA)
4-7(MPA)
Crawler chassis
Walking speed
2.5 km/h
3.5 km/h
3.5 km/h
3.5 km/h
Climbing angle
Max. 45°
Max. 45°
Max. 45°
Max. 45°
Transport  Dimension
4000*1900*1800mm
4000*2000*1800mm
5500*2100*2000mm
6000*2200*2400mm
Weight
4.3T
4.5/5.5T
6.5T
7.5T
Application Of YG Series Crawler Full Hydraulic Core Drilling Rig
1. Oil, gas, and mineral resources exploration
2. Engineering geological prospecting
3. Hydrological well exploration
4. Borehole in surface blasting
5. Gallery ventilation
The crawler core full hydraulic drilling machine is a new type of integrated drilling rig developed on the basis of YG research and development of geotechnical equipment for many years. In order to meet the needs of various drilling processes with diamond drilling as the main body, we have carried out technical upgrades. It can drill 2-9 grade sandy clay and rock layers.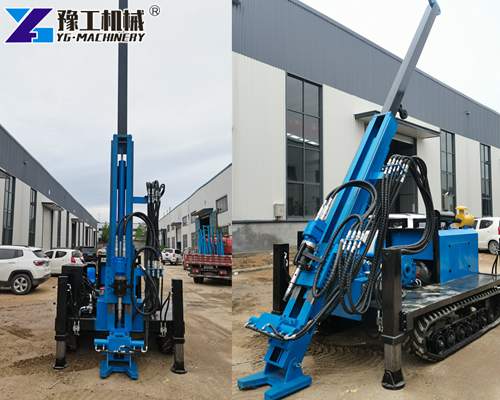 Main Features of YG Crawler Full Hydraulic Drilling Rig
(1) Full hydraulic drive, easy to operate;
(2) Modular design, each component module is easy to assemble and disassemble. Also, it is convenient to derive series products, reduce the design workload and shorten the production cycle;
(3) The speed of the power head can be adjusted steplessly, the speed range is wide and the torque is large, which is conducive to the choice of speed for various drilling processes;
(4) The diameter of the through hole of the chuck is large, the axial stroke is short, the radial stroke is long, and the clamping force is large. The changing slips can be used for drilling construction with different apertures at home and abroad: the slips adopt cemented carbide inlaid welding structure, and the work is reliable, has a long life, and is simple and convenient replacement;
(5) High-quality winch is adopted, which has reliable working performance and high safety, and can automatically release the rope during the drilling process;
(6) The hydraulic core drilling machine has a long stroke and a high degree of mechanization, which is conducive to improving drilling efficiency and reducing accidents in holes;
(7) Feed control has working states such as pressurized drilling, decompression drilling, self-weight drilling, weighing, rapid feed, and lifting, which can meet the needs of different drilling construction processes;
(8) The high level of mechanization, science, and electrification is conducive to organizing the production of drilling rigs, reducing costs, and facilitating management;
(9) The electrical and hydraulic instruments of the drilling rig are complete, which is convenient for real-time observation of equipment operation;
(10) Equipped with a hydraulic orifice gripper, hydraulically driven mud pump, and hydraulically driven mud agitator, no other auxiliary power is needed during drilling.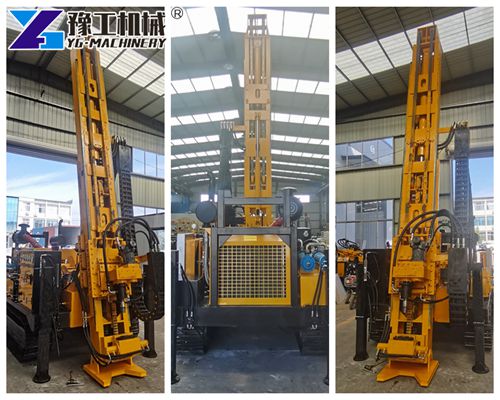 Review
Why do more and more people prefer to use crawler fully hydraulic core drilling rigs? There is no doubt that this is a good choice for operators because this rig saves time and effort. Most notably, it is the most critical factor for crawler drilling rigs to be popular because YG fully hydraulic core drilling rig with the pure pneumatic operation, convenient operation. The crawler drilling rig saves a lot of time for exploration, well drilling, drilling, and other personnel. And it also saves high costs and improves work efficiency.
In addition, our other types of drilling rigs, such as horizontal directional drilling rigs, rotary drilling rigs, crawler DTH drilling machines, trailer-mounted water well-drilling rigs, small water well-drilling rigs, hydraulic core drilling rigs, etc.
Incidentally, YG Machinery has many years of rich experience in manufacturing geological exploration equipment. Significantly, the various types of drilling rigs we produce are sold at home and abroad. The quality of the products is well-appraised by users. There are, of course, if you have such needs, YG will be happy to provide you with the best service.