Introduction
As we all know, drilling rigs are indispensable machines for engineering construction projects. Whether it is a developed country or a developing country, drilling rigs are needed to do what little one can to help the project. With the rapid development of science and technology, machinery is developing towards automation, and Horizontal Directional Drilling Machine is one of them. In the drilling rig industry, the automation and remote control technology of Small Directional Boring Rigs is getting better and better, and will definitely be more advanced in the future. There is no doubt that the level of technology and automation of Horizontal Directional Drilling Rigs is getting higher and higher, which is the general trend.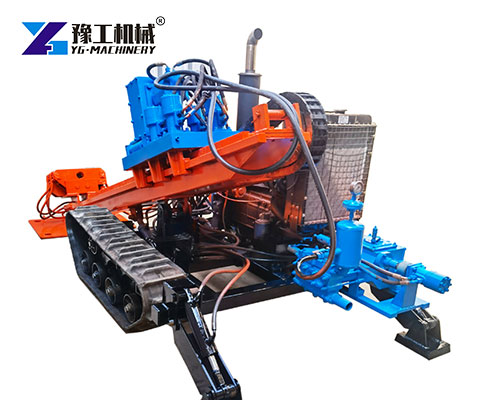 What Is Horizontal Directional Drilling Rig
Horizontal Directional Drilling Rig Machines are also called Small Directional Boring Rig. It installs underground pipelines, cables, and service conduits through trenchless methods. It involves using a directional drilling machine and associated attachments to accurately drill along the chosen bore path and back ream the required pipe. Furthermore, it adopts the non-excavation technology, which refers to a high-tech and practical new technology for laying, repairing, or replacing various underground pipelines with a minimal excavation of the surface.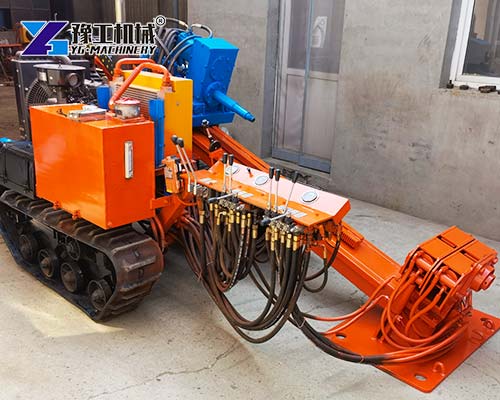 Parameter Of Small HDD Rig Machine
We have a complete line of HDD Drilling Machines for sale. The following are the specific technical parameters of the small horizontal directional drilling rig. If you want to know other parameters of the YG Small Directional Boring Rig, please feel free to contact us.
| | | |
| --- | --- | --- |
| Model | YG130C-L/LS | YG250-L/LS |
| Rig  Weight | 4750kg | 9000kg |
| Max.Push&Pull Force | 135kN | 260/330kN |
| Max.Push&Pull Speed | 36m/min | 45m/min |
| Engine Power | 96kW | 110kW |
| Caterpillar Walking Speed | 2.5-4.5(km/h) | 2.5-4.0(km/h) |
| Entry Drill Angle | 12°-22° | 12°-22° |
| Max Aperture Diameter | Φ750mm(Soil Depended) | Φ1000mm(Soil Depended) |
| Dimension | 5465*1670*2040(mm) | 6950*2160*2400 |
| Max Torque | 4500N.m | 8100N.m |
| Max Rotation Speed | 193r/min | 190r/min |
| Max Mud Pump Flow | 200L/min | 250L/min |
| Max Mud Pump Pressure | 8MPa | 8MPa |
| Max Climbing Gradient | 16° | 17° |
| Max Crossing Length | 200m(Soil Depended) | 300m(Soil Depended) |
YG Hot Selling Horizontal Directional Drilling Rig For Sale
We have a wide range of Horizontal Directional Boring rigs, including small series, medium series, and large series. This article mainly involves some contents of the small horizontal directional drilling rig. Small horizontal directional drilling rigs are popular because they are relatively small and easy to move and operate. YG130C-L/LS and YG250-L/LS are the two most popular small directional drilling rigs. Since they came out, they have been exported to many overseas countries, among which the Philippines, Turkey, Thailand, Vietnam, Laos, Chile, Serbia, Botswana, Turkey, and other countries have purchased these two horizontal directional drilling rigs many times.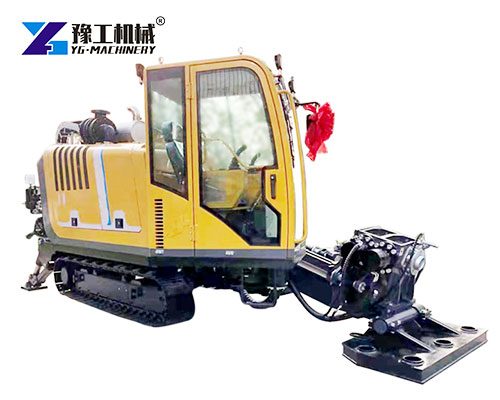 What Is The Application Of A Horizontal Directional Drilling Rig?
Small Directional Boring Rig is mainly used to cross roads, railways, buildings, and rivers, and to lay or renew pipelines for water supply, gas, electricity, telecommunications, natural gas, oil, and sewage discharge under the conditions that it is not easy to excavate in downtown areas, cultural relics protection areas, crop, and vegetation protection areas.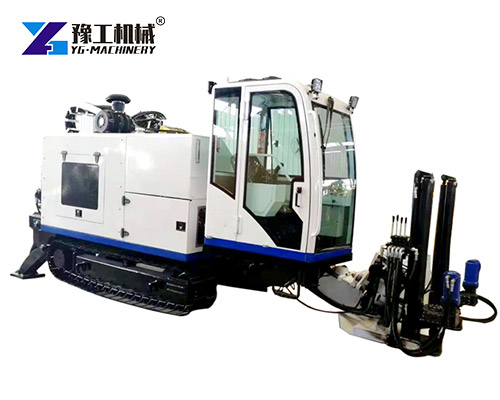 What Are The Characteristics Of HDD Rig?
The machine is equipped with a Cummins engine with high-efficiency large power, low fuel consumption, low noise, and strong ability in construction.
Rotation adopts American Eaton large torque motor driving directly, with large torque stable performance, and two gears speed regulation.
Push &pull adopts a high-quality motor and three gears speed regulation.
The Construction speed is far ahead of other manufacturers in the same industry.
Driving head reserves reinforced power-push &pull force, which expands the scope of drilling construction.
It is equipped with a hydraulic gear pump with military technology. Steel track walks by wire control, which is convenient for loading & unloading, and transferring.
The operation table adopts a man-machine construction manner with a comfortable operation. It greatly reduces workers' fatigue levels broad vision and comfortable seats.
Equipped with a φ60x3000mm drill rod the machine uses less field area meeting the requirement for high-efficiency construction in a small place.
Electric design is reasonable with a low failure rate which is easy to maintain.
The rig shape is beautiful, and easy to repair, which fully shows a "people-oriented design vision.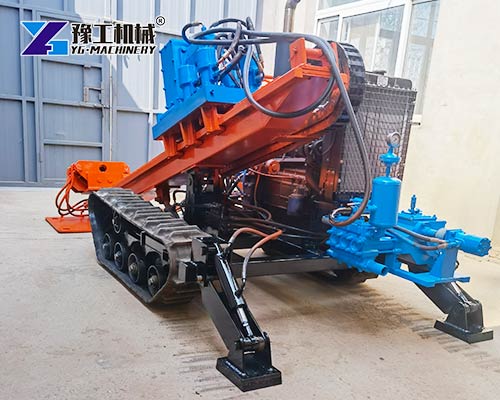 Related Drilling Rig Machine
YG Machinery is famous for producing high-quality series of drilling rigs, we not only have various models of large and medium-sized horizontal directional drilling rigs for sale but also a series of other types of drilling rigs are also on sale. Such as Lock Rod Rotary Drilling Rig, Four-Wheel Tractor Mounted Borewell Drilling Rig Machines, Crawler Anchor Drilling Machines, Backpack Drilling Rigs, HDD Rigs Machines, Rotary Drilling Rigs, Crawler Mounted DTH Drilling Rigs, Small Trailer-mounted Water Well Drills, Small Water Well Drilling Rigs, Full Hydraulic Core Drilling Rigs, etc.