YG's main product horizontal three-cylinder reciprocating single-acting piston mud pump. A mud pump is also called a mud sucker pump. There are four types of flow rates and four types of pressures, with a wide range of flow and pressure changes. Mud sucker pump has the characteristics of small size, lightweight, long life, simple operation, flexibility and reliability, and many common and standard parts. Lightweight and flexible, easy to relocate. YG BW series mud suction pump can be applied to pumps for geological prospecting and engineering prospecting within 1000m of hole depth in railway, water, metallurgy, construction, geology, and other industries. Contact us to get more mud pump for sale information.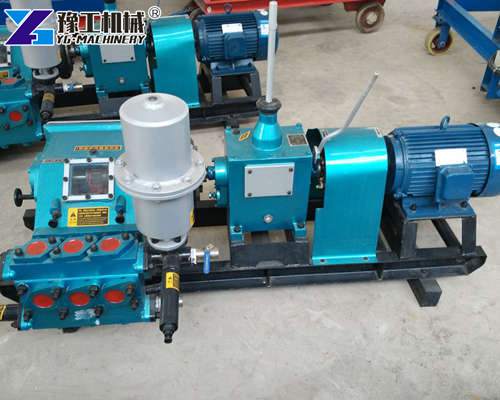 Parameter
| | | | | |
| --- | --- | --- | --- | --- |
| Model | BW150 | BW160 | BW250 | BW320 |
| Max. Flow(L/min) | 150 | 160 | 250 | 320 |
| Max. Pressure(Mpa) | 7 | 10 | 6 | 8 |
| Power(KW) | 7.5 | 11 | 15 | 30 |
| Suction Pipe Diameter | φ51 | φ51 | φ76 | φ76 |
| Drain Pipe Diameter | φ32 | φ32 | φ32 | φ32 |
| Weight(Kg) | 560 | 480 | 760 | 1000 |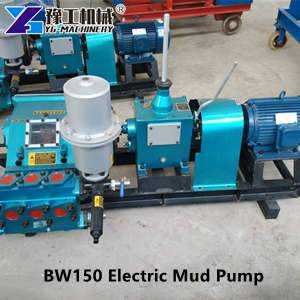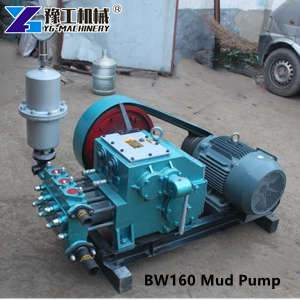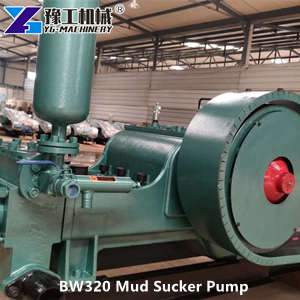 The Function of Mud Sucker Pump
A mud sucker pump refers to a machine that transports flushing fluid such as mud or water into the borehole during drilling. So some people call it a mud water pump. Drilling mud pump is an important part of drilling equipment. In common positive circulation drilling, the mud sucker pump sends the surface flushing medium-clean water, mud, or polymer flushing fluid under a certain pressure, directly to the bottom end of the drill bit through the high-pressure hose, faucet and the center hole of the drill string. In order to achieve the purpose of cooling the drill bit, remove the cutting debris and transport it to the surface.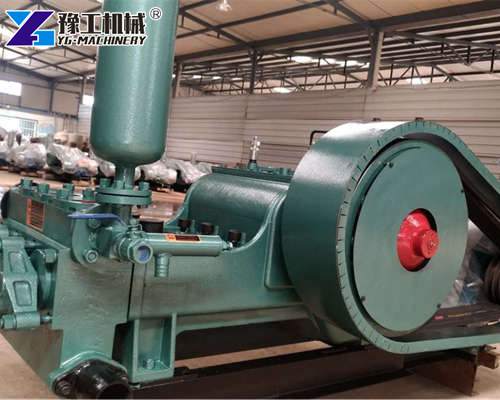 Working Principle
Commonly used drilling mud pumps are piston-type or plunger-type. The crankshaft of the mud water pump is driven by the power machine to rotate. And the crankshaft drives the piston or plunger to reciprocate in the pump cylinder through the crosshead. Under the alternate action of suction and discharge valves, the purpose of pressure delivery and circulation of flushing liquid is realized. The two main parameters of mud pumps for sale performance are displacement and pressure.
Mud Pump Classification
According to the function
Single-acting mud pump: Complete one suction and drainage action in one cycle of piston reciprocating motion.
Double-acting mud pump: Complete two suction and drainage actions in one cycle of piston reciprocating motion.
According to the number of cylinders
If classified according to the number of cylinders of the drilling mud pump, there are single-cylinder, double-cylinder, three-cylinder, five-cylinder, and other types.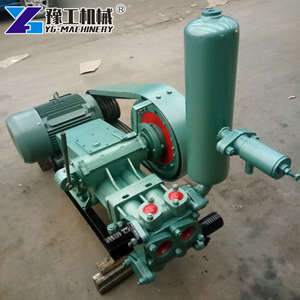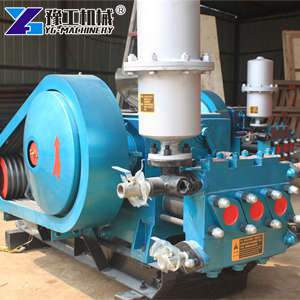 Main Products
YG is mainly engaged in the production: Water Well Drilling rigs. Rotary Drilling Rig. Horizontal Directional Drilling Rig. Down The Hole Drilling Rig. Anchor Drilling Rig. Core Drilling Rigs, SmallTrailer-mounted Water Well Drills, Small Water Well Drilling Rigs, Full Hydraulic Core Drilling Rigs, etc drilling equipment. Grouting machine, two-fluid grouting machine, high-pressure grouting machine. Mortar grouting machine, cement grouting machine, extrusion grouting machine, piston grouting machine, BW series mud pump. And pump products such as shotcrete machines, wet shotcrete machines, and mine shotcrete machines. Fine stone concrete shotcrete machine, mortar mixer, double-layer mixer, etc. Please feel free to contact us to get a mud pump for sale price if you need it.