Hot Sale YG150 Down The Hole Drilling Machine
YG150 Down The Hole Drilling Machine is a new type of drilling rig independently developed and produced by our company on the classic 150T model. The Crawler Down-the-hole Drill Machine has undergone continuous market tests and continuous upgrades and improvements by the company's technical team, which has achieved a steady increase in work efficiency while reducing costs.
The YG150 DTH Drilling Machine can realize the medium and high wind pressure drilling operation of the drill rig and has high-cost performance. YG DTH Drill Machines are widely used in mine blasting, urban foundation pit construction, highway construction, hydropower, and other engineering projects. The following introduces the performance characteristics of this hot-selling down-the-hole drilling machine.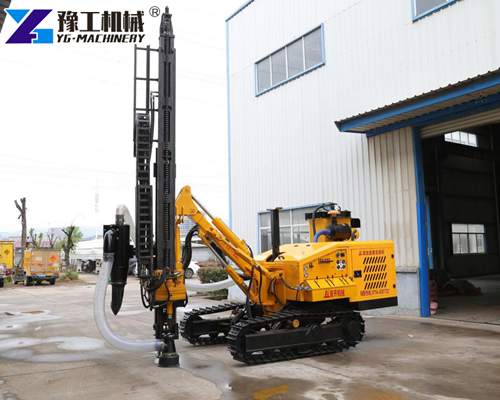 Main Technical Parameters
| | |
| --- | --- |
| Rock hardness | f=6~18 |
| Drilling diameter | 90~146mm |
| Drilling depth | 30m |
| Walking speed | 2.5km/h |
| Gradeability | 30° |
| Towing air compressor gradeability | 13° |
| Swing speed | 0~170r/min |
| Rotation torque | 2960N/M |
| Working pressure | 0.7~1.7MPa |
| Air consumption | 9~14m3/min |
| Propelling beam pitch angle | Up19°, Down110° |
| Propelling beam swing angle | Right5°, Left90°(or Right90°Left5°) |
| Drill boom pitch angle | Up50°, Down23° |
| Drill boom swing angle | Right40°, Left40° |
| Diesel tank volume | 85L |
| Hydraulic oil tank volume | 188L |
| Power Configuration | YCD4R22T-80(Yuchai) |
| Dimensions(transportation state) | 6200L×2300W×2700H(mm) |
| Total Weight | 6.3T |
YG150 Down The Hole Drilling Machine Features
Using new hydraulic technology, low cost.
The crawler is driven by a low-speed and large-torque hydraulic motor, which has a strong climbing ability and convenient shifting. The high drilling efficiency greatly reduces the labor intensity of the operator.
Wide adaptability, YG150 down-the-hole drilling machine suitable for various mines, quarries, railways, roads, water conservancies, and other projects.
All key accessories can be installed or selected according to customer needs. Such as: installing dust collectors (dry type/wet type), changing large torque powerheads, etc.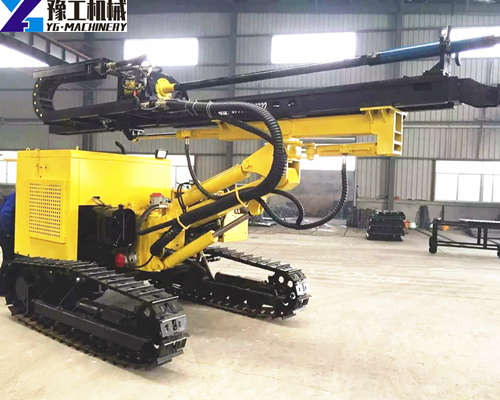 YG150 Down The Hole Drilling Machine Advantages
The crawler shoe uses forged parts of the excavator crawler (repeatedly beaten). There are more manganese elements with wear resistance. It is not easy to wear and has a long service life. In addition, four wheels and one track will not cause chain disconnection and frequent replacement of supporting wheels. Many manufacturers of cheap drilling rigs use casting track shoes (grinding tool pouring method).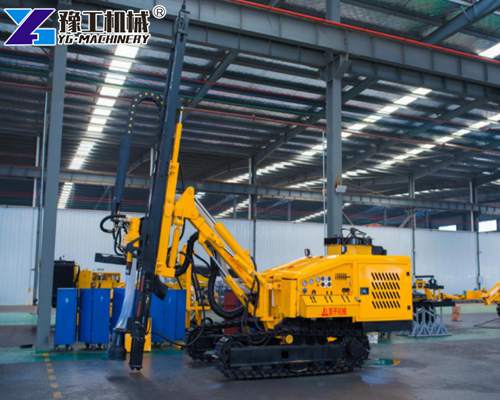 Walking Motor
The walking motor adopts the axial plunger coaxial motor with the same structure as the excavator. High torque and long service life. The sprocket and supporting wheels are completely sealed with roller needle bearings and gear oil. Maintenance-free for life. No need to apply lubricating oil. Many cheap DTH drilling rig manufacturers still use our enhanced walking motor (steel ball motor + planetary speed reducer) from a few years ago. The torque of this motor is small, and the steel ball motor is particularly prone to damage. Moreover, the maximum pressure that this motor can withstand is 1.5Mpa.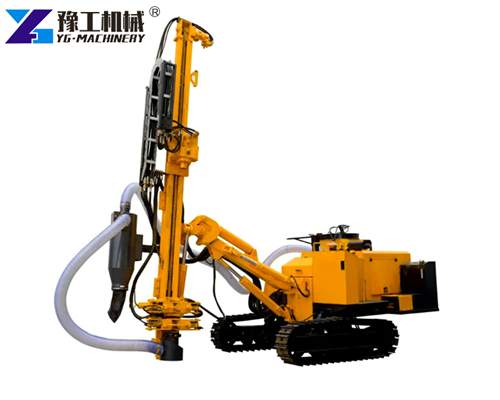 Chassis Part
The chassis part uses thickened pipes (forced on all sides) instead of channel steel (forced on one or both sides). Solid and durable, will not break or deform. The chassis height is 480mm. There are many rocks in the mine, and YG DTH drilling rigs can easily cross-country (most of the foundation pit customers have soft layers, and the drilling rig will not rub the chassis when it sinks). In addition, the walking motor is sealed so that debris will not collide with the motor joints.
In addition to the above description of the YG150 down-the-hole drilling machine, it has many advantages. If you want to know more details, please feel free to contact us.
Related Products
As a professional advanced Drill Machine Manufacturer, we have a series of DTH Drilling Machines For Sale. In addition, we have an Anchor Drilling Machine For Sale, an HDD Drilling Machine, a Rotary Drilling Rig, and Backpack Drill Equipment. Water Well Drilling Machine. And Drill Bits, Drill Pipes, Air Compressors, Mud Pumps, and Triplex Mud Pumps that match the drilling rig you need. Just feel free to tell us your requirement. And our sales manager will send an accurate borehole drilling machine price for your reference.