On February 7, 2023, Laos imported 20 Full Hydraulic Core Drilling Rigs from YG Machinery for construction work. Soon after, they sent back feedback that the YG Full Hydraulic Coring Drilling Rig is of high quality. For all we know, as one of the most professional Full Hydraulic Coring Drilling Rig manufacturers in China, YG Machinery has the most core technology and the richest experience in drilling rig production.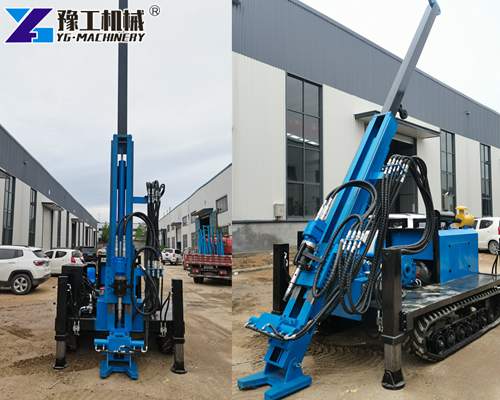 Reliable YG Machinery Manufacturer
Over the past 18 years, we have made remarkable achievements in the machinery manufacturing industry and won the domestic and overseas markets with the industry's trust. Above all, YG Machinery also won high praise from customers at home and abroad. We have a range of high-quality drilling rigs for sale. Besides the most popular Hydraulic Coring Drilling Rigs, Crawler Mounted DTH Drilling Rig, Water Well Drilling Rigs, Rotary Drilling Rigs, Anchor Drilling Rigs, Down-the-Hole Drilling, and Horizontal Directional Drilling Rigs also enjoy great popularity.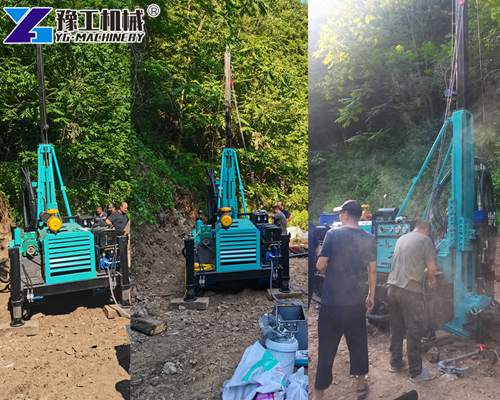 Something about YG Series Full Hydraulic Core Drilling Rigs
Description Of Hydraulic Core Drilling Rig
Full Hydraulic Power Head Core Drilling Rig is a multifunctional full hydraulic core drilling rig machine developed by YG Machinery. Conveniently, a full hydraulic core drilling rig adopts diamond and carbide drilling tools. Admittedly, it is one of the perfecting drilling rigs. More importantly, it can work in harsh environments such as plains, hilly areas, high temperatures, and severe cold. It is mainly applicable to the exploration of metal and non-metal solid deposits.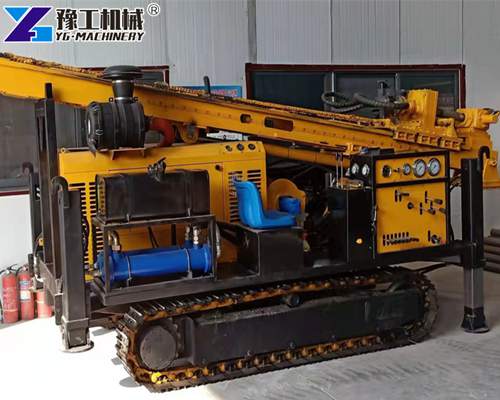 Technical Parameters YG Series Full Hydraulic Coring Drilling Rigs
Model
YG-400XL

YG-600S/GL

YG-800S/GL
YG-1000GL
Drilling capacity
Drilling depth
180-400-500m
200-600-650m
400-800-1000m
500-1000-1100m
Drilling angle
0~90°
45~90°
45~90°
45~90°
Max. Torque
500N.m
1000N.m
1300N.m
3500N.m
Rated power/speed
78kW/ 2400r/min
92kW/ 2400r/min
92kW/ 2400r/min
154kW/

2400r/min

Hydraulic Mud pump flow
30-90(L/min)
30-90(L/min)
90-180(L/min)
90-180(L/min)
Hydraulic Mud pump power
4-7(MPA)
4-7(MPA)
4-7(MPA)
4-7(MPA)
Crawler chassis
Walking speed
2.5 km/h
3.5 km/h
3.5 km/h
3.5 km/h
Climbing angle
Max. 45°
Max. 45°
Max. 45°
Max. 45°
Transport  Dimension
4000*1900*1800mm
4000*2000*1800mm
5500*2100*2000mm
6000*2200*2400mm
Weight
4.3T
4.5/5.5T
6.5T
7.5T
Applications
The Crawler Full Hydraulic Core Drill Rig Machine is a new type of integrated drilling rig developed on the basis of YG research and development of geotechnical equipment for 18 years. Furthermore, it can be widely used in geology, coal, metallurgy, non-ferrous metals, petroleum, hydrology, engineering, and other industries.
It is mainly used in the exploration of oil, gas, and mineral resources. What's more, it can also be used in infrastructure projects such as engineering geological exploration, hydrological well exploration, surface blasting, and drilling.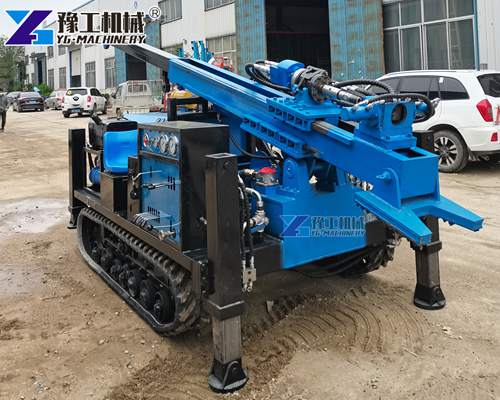 Unique Superiority Of Hydraulic Core Drilling Rig
The fully hydraulic system adopts load-sensitive control, with high working efficiency and large torque. Last but not least, the maximum torque can reach 3500N.m.
It adopts full hydraulic automatic feeding devices to improve drilling efficiency and reduce labor intensity.
The drilling rig is equipped with hydraulic trojan grippers, hydraulic leveling legs, a retractable mast, and other devices to facilitate the rapid positioning of the drilling rig.
It adopts crawler-type walking, the whole machine can move, and it is easy to relocate.
Vertical axis box bearing positioning to ensure that the rotator is rigid enough to deal with the gravel layer, pebble layer, and other complex geological conditions.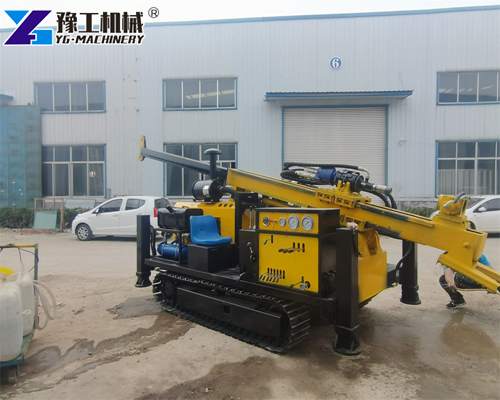 Accessories
Drilling rigs generally include the following main accessories:
1. Centrifuge: Industrial equipment that separates sediment from drilling fluid by centrifugal force.
2. Chain pliers: Wrench with locking chain.
3. Degasser: A device that separates air and natural gas from drilling mud.
4. Desilter: Consists of a series of hydro cyclones that separate silt from drilling mud.
5. Mud pump: A pump used to circulate drilling fluid.
6. Mud pool: A pool for storing drilling fluid.
7. Turntable: A wheel that rotates drill pipe and tools.
8. Winch: Winch is a piece of equipment with a spool that is pulled in and out to raise and lower a cruiser.
9. Drill bit: It is the equipment at the end of the drilling rig, which is used to drill rock. The drilling fluid can be sprayed.
10. Drill pipe: A hollow tube used to connect the bottom hole assembly to surface equipment and also as a casing for drilling fluid.
11. Lifter: A gripping device for gripping drill pipes and casings, used to lift or lower drill pipes or casings.
12. Shaker: A device that separates cuttings from drilling fluid after it has been pumped from the borehole back to the surface.
13. Downhole motor: A hydraulically powered piece of equipment that sits above the drill bit and is used to rotate the drill bit alone.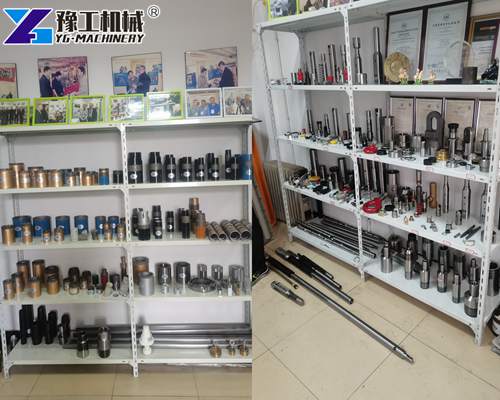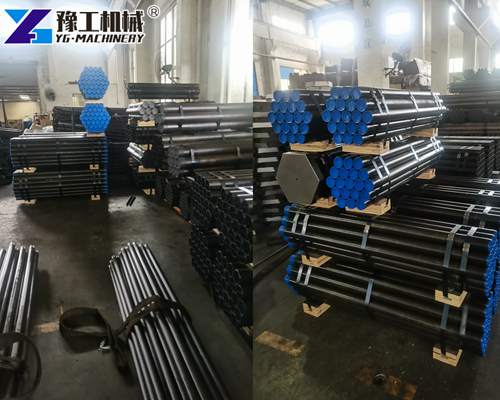 Why Buy YG Full Hydraulic Core Drilling Rigs Machine?
Due to its special and advanced structure, full hydraulic coring drilling rigs have gradually replaced the main machinery of traditional geological drilling construction in developed countries.
Get a word, by reason of the influence and restrictions of the drilling environment such as climate, geographical location, geological conditions, transportation, and water supply, conventional drilling rigs cannot be used. In this case, the powerful function of the full hydraulic core drilling machine is particularly prominent.
YG series Full Hydraulic Coring Drilling Rig is a core drilling rig using wireline coring technology. It has become the leading machine for exploration engineering and infrastructure engineering in developed countries around the world.