On February 20, 2023, 30 Rotary Drilling Rigs repurchased by Ghanaian customers arrived at the port of Ghana. Garner, a Ghanaian customer bought our crawler rotary drilling rig again. He spoke highly of the quality and performance of our rotary drilling rig machine. This order of 30 crawler rotary drilling machines is for local retail. Due to our relatively good purchasing experience, Ghanaian customers Garner trust us very much. Garner said he was satisfied with our after-sales service and expressed his heartfelt thanks to us. YG rotary drilling rig has fast positioning, high working efficiency, fast drilling speed, ease to use, time-saving, and high efficiency, it is their ideal piling equipment for construction. Over the years, YG Machinery has been well-received by new and old customers. Drilling rig products are distributed all over the country and exported overseas.
Description
The Rotary Drilling Rig is also called a Rotary Drilling Machine, or Pile Driver. It is a piling machine suitable for hole-forming operations in building foundation engineering and is widely used in foundation construction projects such as highway bridges, high-rise buildings, and municipal construction. The main rig we commonly use for a pile design borehole is a Rotary Drilling Rig, which is perfect for when up against bedrock geology. Rotary Drilling Rigs don't really have a depth limit, you just need bigger and more powerful rigs to get there.
【Whatsapp/Wechat/Phone】+8618337123872
Email: admin@ygdrillequipment.com
Technical Specification
Model
YGWD-150
YGWD-150
YGWD-180
Working mode
Pull-Down cylinder
Pull-Down cylinder
Pull-Down cylinder
Pore diameter
400-1500MM
400-1500MM
400-1600MM
Drilling depth
1-15M
1-15M
1-20M
Output torque
42000N.M
42000N.M
45000N.M
Pressure
16-32MPA
16-32MPA
16-32MPA
Drilling speed
34-45min
34-45min
34-45min
Engine model
6105
4115
6105
Engine brand
WEICHAI

YUCHAI

CUMMINS

YUCHAI
WEICHAI

YUCHAI

CUMMINS

Engine power
110KW/2200r
110KW/2200r
110KW/2200r
Dimension
9.6×2.4x3M
9.6×2.4x3M
10.5×2.4x3M
Overall weight
15T
15-17T
18T
Application Of Rotary Drilling Rig
The Crawler Rotary Drilling Rig is a construction machine suitable for hole-forming operations in building foundation engineering. It is mainly suitable for sandy soil, cohesive soil, silt soil, packing layer, silt layer, some containing pebbles, gravel, etc. It is widely used in sea-crossing, river-crossing bridges, urban transportation, high-speed railways, large-scale construction venues, commercial and civil buildings, transportation hubs, power pole foundations, photovoltaic foundations, coal mining, and other projects.
Features Of Crawler Rotary Drilling Rig
 The streamlined design of the whole machine is stylish and elegant, with high-efficiency operation, stable performance, and high-cost performance.
 Small size, flexible work, able to work in a small space.
 There is no need to disassemble the drill pipe, and the whole machine can be loaded and transported.
The steel crawler chassis is driven by dual motors, and the turning radius is small.
Equipped with a large high-definition operation screen, the verticality of the drill pipe can be adjusted freely in the cab.
The torque of the power head is large, and it adopts three gears high, medium, and low gears, and the gear feeding speed can be changed according to different geological conditions.
Automatic depth detection controls the drilling degree at any time.
The construction efficiency is high, the production process is mature, and the construction process is safe and reliable.
【Whatsapp/Wechat/Phone】+86 18337123872
Email: admin@ygdrillequipment.com
Working Principle Of Rotary Drilling Rig
Rotary Drilling Rigs utilize high levels of torque and rotation, with a drill bit at the end of the drill pipe rapidly rotating and boring through the rock formation. The high frequency and speed of rotations make this form of drilling an effective means of carving through both hard and soft rock formations, alike. This form of drilling uses either air or drilling fluids to clear out the borehole, cool the drill bit, and generally reduce friction on the bit so that it can continue to run optimally.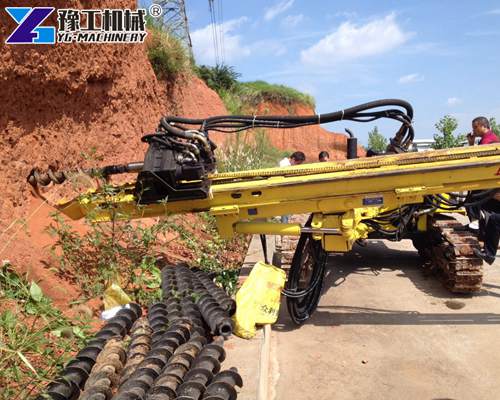 Conclusion
As the most professional manufacturer of rotary drilling rigs in China, YG Machinery has the most extensive experience. Of course, cutting-edge technology is also an important reason why we have won the trust of our customers. We always provide the best after-sales service to our customers. Over the years, new and old customers are all over the world. Our aim has always been to serve every customer well, and customer satisfaction is our eternal pursuit.
【Whatsapp/Wechat/Phone】+86 18337123872
Email: admin@ygdrillequipment.com
In addition to the top-selling rotary drilling rigs, we have many types of drilling rigs. For example, Truck Water Well Drilling Rig Machine, Wheeled Rotary Drilling Rigs, Tractor Mounted Borewell Drilling Rig Machines, Full Hydraulic Core Drilling Rigs, Water Well Drilling Rigs, Anchor Drilling Rigs, Backpack Drilling Rigs, Down-the-hole Drilling Rigs, Horizontal Directional Drilling Rigs are also popular. Welcome your consultation at any time!