Professional Ability Of YG Machinery
YG Machinery's Water Gas Well Drills Machine is designed for safety, reliability, and productivity, with a line of drilling rigs to meet all customer drilling needs. YG Machinery's water well drilling rig machine market has a rich history of more than 18 years and it is still increasing. Since water is the most precious resource of our human beings, and the global demand for water is increasing every year, the demand for water well drilling rigs is also increasing year by year. YG Machinery is intensely proud of offering solutions to meet this growing demand.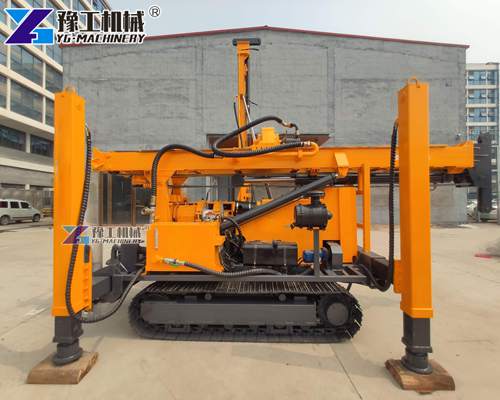 Description Of YG-400 Water And Gas Well Drills
YG-400 drilling rig is a water well drilling equipment independently developed by the company, which integrates water drilling and air drilling functions. It adopts AMT automatic manual transmission, 10-stage forward rotation, 2-stage reverse rotation, and sensitive and convenient switching between forward and reverse rotation, the transmission efficiency is double that of hydraulic transmission, power consumption is reduced by 35%, and it is more efficient and energy-saving. Moreover, it fundamentally solves the problems of difficulty in drilling with air DTH hammers in soil layers and the low construction efficiency of rotary drilling rigs in hard rock layers, gravel, and pebble layers.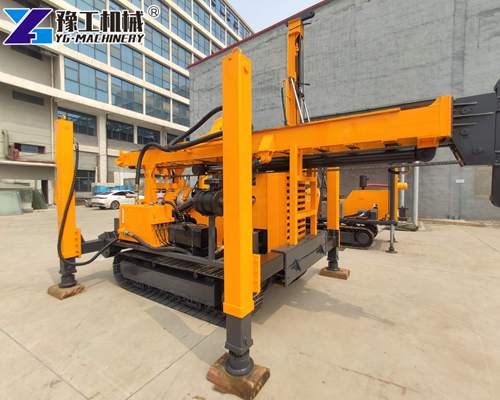 Specifications Water Gas Well Drills Machine
| | |
| --- | --- |
| Model | YG-400 |
| Machine weight(kg) | 8000 |
| Machine size(mm) | 5600*2120*2650 |
| Walking speed(km/h) | 0~2 |
| Equipped with power model | YN33GBZ |
| Dynamic parameters | 76kW/2400rpm |
| Gradeability (°) | 20 |
| Drilling depth (m) | 400 |
| Working wind pressure (MPa) | 1.05~2.46 |
| Total gas consumption (m3/min) | 16~35 |
| Drill pipe diameter (mm) | Ø76/Ø89/ Ø102 |
| Drill pipe length (mm) | 3000 |
| Drilling (drill) diameter (mm) | Ø115~Ø350 |
| propulsion (t) | 9 |
| Lifting force (t) | 18 |
Application Of Water Gas Well Drills Machine
Water and gas water well drilling rigs are mainly suitable for drilling water wells, agricultural irrigation wells, and well holes for other purposes, especially for water intake projects in mountainous and rocky formations. This series of drilling rigs adopts new hydraulic technology, supporting large torque hydraulic motor rotation and large bore hydraulic cylinder propulsion. All drilling rigs need to be used with air compressors.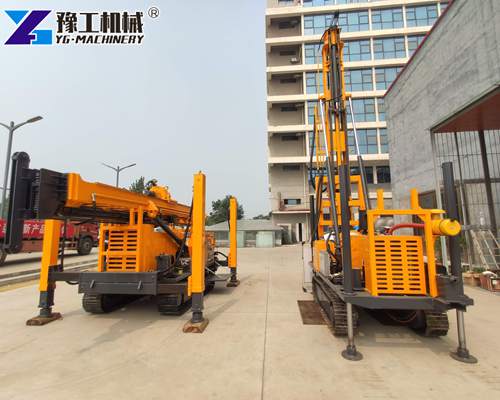 Main Features Of Water Gas Well Drills Machine
The speed of the drilling rig can reach the speed range of 14-650r/min, and the maximum output torque is 13400N.m.
The drilling rig adopts a long-stroke double-speed mechanism and a mechanical power head. The stroke of the power head is 3400MM, which is used to improve drilling efficiency and reduce the occurrence of drill blocking and burning accidents.
The drilling rig adopts dual oil pumps for oil supply, a single pump is used when drilling, and a double pump is used for confluence when lifting and lowering the drill; the power loss is small and the auxiliary time is short.
The crawler chassis is adopted, and the stroke of the outrigger cylinder is 1.5m, which can be automatically loaded on the truck, which is convenient for relocation and transportation.
Some functional interfaces are reserved in the hydraulic system, which can be expanded according to the technological requirements of different users.
Full hydraulic control, convenient and flexible operation, convenient shifting, good maneuverability, saving time and effort.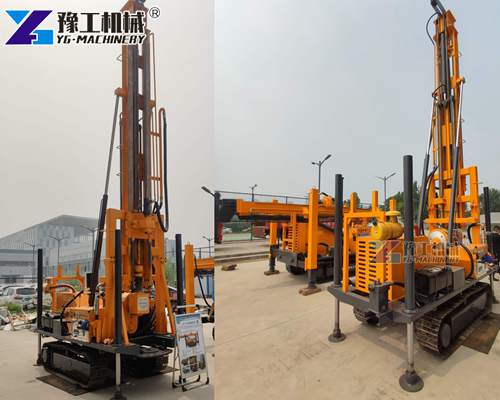 Drilling Process
Move the drilling rig to the position where the operation is required, and adjust the drilling rig to be parallel to the ground by manipulating the handle of the telescopic cylinder and the handle of the outrigger cylinder.
Operate the handle of the pitching cylinder to pitch the carriage to the stop position, tighten the two fixing bolts with a wrench, and put in the fixing pin.
Install the first drill pipe (2m), impactor, and drill bit, and fix the impactor with the impactor positioning sleeve.
By manipulating the micro-adjustment machine of the outrigger cylinder handle, ensure that the drill pipe is vertically downward.
Open the inlet ball valve.
Adjust the oiler needle valve until you see oil droplets at the bit.
Slowly move the gyrator downwards so that the drill bit of the impactor touches the ground surface, and at the same time push the handle of the impact ball valve to an appropriate angle to drill holes.
After the rock hole is formed, the impactor stabilization sleeve should be replaced with the drill pipe stabilization sleeve, and then the handle of the impact ball valve should be pushed to the limit position for formal rock drilling.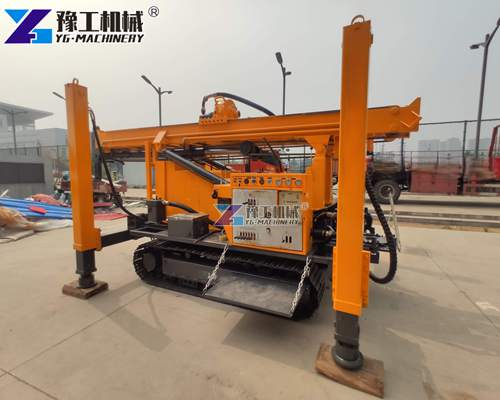 Conclusion
We make great efforts to deliver innovative solutions for our customers that bring value to their operations. With reduced downtime, increase working efficiency, and by providing safer work conditions. YG Machinery's water and gas water well drilling rigs help customers grow and sustain their construction projects.
We also have a series of drilling rig machines for sale, such as Lock Rod Rotary Drilling Rigs, Crawler Rotary Drilling Rigs, Crawler Water Well Drilling Machine, DTH Drilling Machines, HDD Drilling Machine, Rotary Drilling Machine, Wheeled Rotary Drilling Rigs, Anchor Drilling Rig, etc. Please contact us!