On April 19, 2023, Jerry, a customer from Guatemala, purchased YG Machinery's Water And Gas Dual Function Water Well Drills, which are popular in the drilling rig market. The customer saw our water well drilling rig on the Internet and was very interested, so he contacted our website customer service staff immediately. After answering questions from our professionals, the customer Jerry decided to cooperate with us. He said: "I am very satisfied with your customer service staff, she responded to my message quickly, and was very professional in answering questions. It also made me more sure that YG Machinery is a professional and well-known drilling rig manufacturer.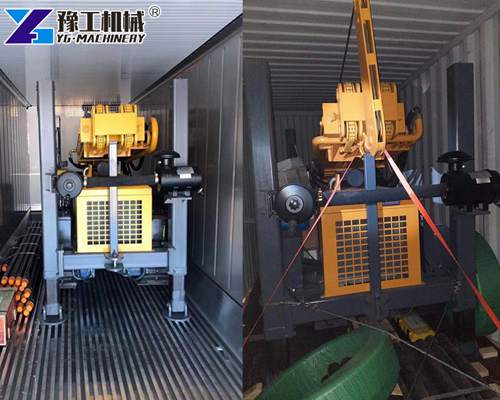 Introduction Of YG-400 Water And Gas Well Drills
The water and gas dual-purpose crawler water well drilling rig is a new, efficient, and multi-functional drilling equipment. The unique water-air dual-purpose structure of the drilling rig is designed in combination with the two technological characteristics of roller cone drilling and down-the-hole hammer drilling, and the soil layer and pebble layer are more targeted. It is a new type of drilling machine that replaces traditional disc drills and traditional water drills. It is especially to solve the difficulty of drilling with an air DTH hammer in soil layers, and the construction problems of rotary drilling rigs in hard rock layers, gravel, and pebble layers. The important thing is that it can work efficiently under various geological structures, realizing the perfect combination of water drilling and air drilling.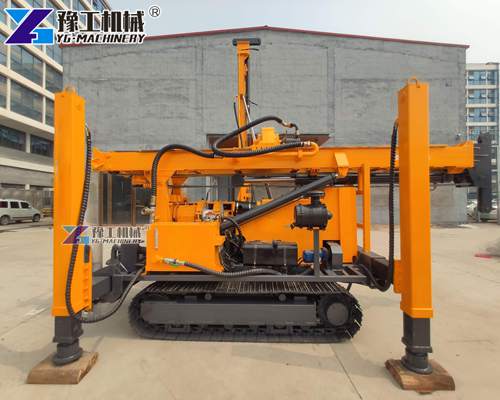 Technical Specifications
| | |
| --- | --- |
| Model | YG-400 |
| Machine weight(kg) | 8000 |
| Machine size(mm) | 5600*2120*2650 |
| Walking speed(km/h) | 0~2 |
| Equipped with power model | YN33GBZ |
| Dynamic parameters | 76kW/2400rpm |
| Gradeability (°) | 20 |
| Drilling depth (m) | 400 |
| Working wind pressure (MPa) | 1.05~2.46 |
| Total gas consumption (m3/min) | 16~35 |
| Drill pipe diameter (mm) | Ø76/Ø89/ Ø102 |
| Drill pipe length (mm) | 3000 |
| Drilling (drill) diameter (mm) | Ø115~Ø350 |
| propulsion (t) | 9 |
| Lifting force (t) | 18 |
Application Of Water Gas Well Drills
Over the years, water well drilling rigs have achieved good construction results in practical applications. Water and gas water well drilling rigs are mainly suitable for drilling water wells, agricultural irrigation wells, and well holes for other purposes, especially for water intake projects in mountainous and rocky formations. This series of drilling rigs adopts new hydraulic technology, supporting large torque hydraulic motor rotation and large bore hydraulic cylinder propulsion. All drilling rigs need to be used with air compressors.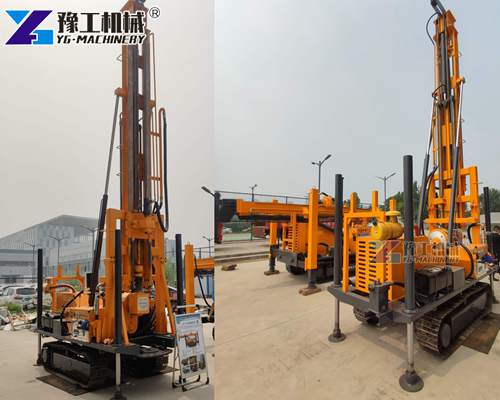 Marked Features Of Water Gas Well Drills
The speed of the drilling rig can reach the speed range of 14-650r/min, and the maximum output torque is 13400N.m.
The drilling rig adopts a long-stroke double-speed mechanism and a mechanical power head. The stroke of the power head is 3400MM, which is used to improve drilling efficiency and reduce the occurrence of drill blocking and burning accidents.
The drilling rig adopts dual oil pumps for oil supply, a single pump is used when drilling, and a double pump is used for confluence when lifting and lowering the drill; the power loss is small and the auxiliary time is short.
The crawler chassis is adopted, and the stroke of the outrigger cylinder is 1.5m, which can be automatically loaded on the truck, which is convenient for relocation and transportation.
Drilling rig in machinery. Some functional interfaces are reserved in the hydraulic system, which can be expanded according to the technological requirements of different users.
Full hydraulic control, convenient and flexible operation, convenient shifting, good maneuverability, saving time and effort.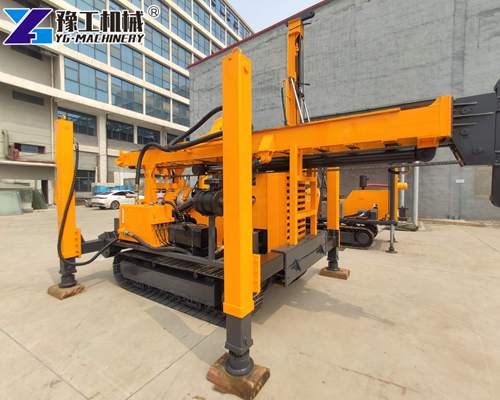 Working Principle Of Water Gas Well Drills
YG-400 water and gas dual water well drilling rig is a fully hydraulic surface drilling equipment. Water Gas Water Well Drills is powered by a diesel engine, forms a high-pressure oil circuit by driving a hydraulic oil pump, and drives a hydraulic motor and a hydraulic cylinder to complete various predetermined actions by operating the relevant hydraulic control valve on the console. If you need to buy water well drilling rigs, YG Machinery will be your ideal choice. Contact us to choose accessories.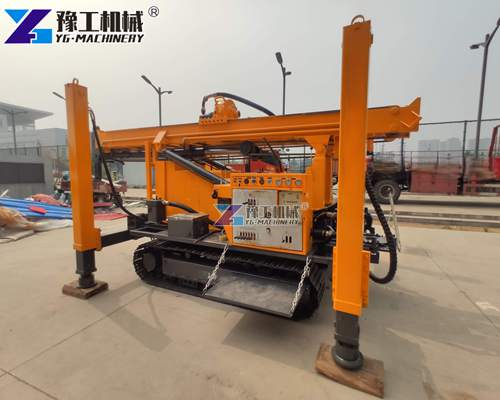 Related Products
YG Machinery has many kinds of large and small drilling rigs. To deal with the different sizes of the project and the location of the construction site. For example, Lock Rod Rotary Drilling Rigs, Four-Wheel Tractor Mounted Borewell Drilling Rig Machines, Crawler Anchor Drilling Machines, Backpack Drilling Rigs, HDD Rigs Machines, Rotary Drilling Rigs, Crawler Mounted DTH Drilling Rigs, Small Trailer-mounted Water Well Drills, Small Water Well Drilling Rigs, Full Hydraulic Core Drilling Rigs, etc. And many related drill tools. What do you need? Just feel free to leave your requirements.