On February 12, 2023, We exported 30 Portable DTH Drilling Rigs to the beautiful country of Sudan. We recently received working on-site map feedback from the Sudan customer Tayeb Salih. According to Tayeb Salih, YG DTH Drilling Rigs are simple and easy to operate and work efficiently. Making their work can be completed efficiently and of high quality. Sudan customers have highly evaluated our machines and services during sales. Their satisfaction is our unremitting pursuit. We will always provide optimal services to new and old customers from all over the world.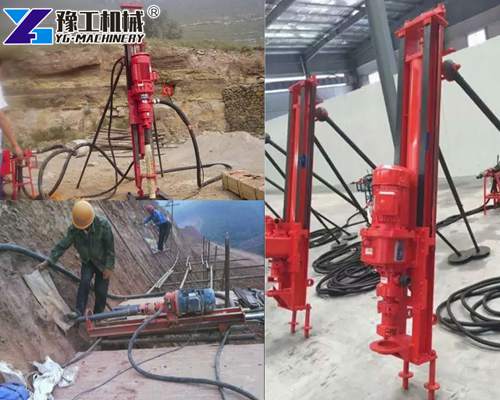 Description of Portable DTH Drilling Rigs
Down-the-hole Drilling Rig, usually called DTH Drilling Rig by most professionals. It is basically a portable machine on the bottom of a drill string. The fast hammer action breaks hard rock into small cuttings and dust that are evacuated by a fluid (air, water, or drilling mud).
YG DTH drilling rig machine is an advanced drilling equipment that integrates the downhole drilling system and the screw air compression system. It is powered by a high-quality diesel engine and is compact. It is convenient, flexible, and enjoys high popularity.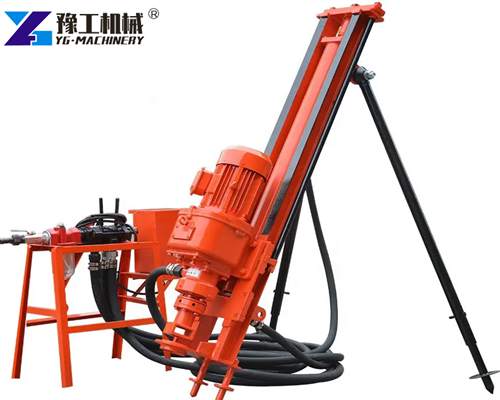 Technical Parameters of Portable DTH Drilling Rigs
Model
YQ70
YQ100
YQ120
Drilling Diameter
60-80mm
80-100mm
100-150mm
Drilling Depth
≥15m
≥25m
≥40m
Power
3kw
4kw
5.5kw
Voltage
380V
380V
380V
Drilling Pipe
OD
42mm
50mm
60mm
Quantity
15pcs
20pcs
20pcs
Impactor OD
70mm
100mm
120mm
Air Consumption
4.5m3/min
6m3/min
10m3/min
Main Application of Pneumatic DTH Drilling Rig
Pneumatic DTH Drilling Rig is often used in the mining industry (blast hole drilling), on construction sites, drilling water wells, and in the oil and gas industry.
The down-the-hole drilling rig machine is mainly suitable for large-diameter blast hole rock drilling in small and medium-sized mines, road construction, water conservancy, and stonework projects, as well as drilling anchor holes in slope support, tunnel support, and foundation pit support. The main drilling object is the rock formation.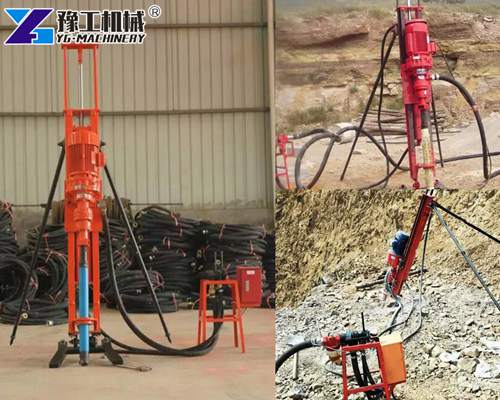 Unique Benefits of YG Portable DTH Drilling Rigs
1. Compact Structure and Easy Operation
YG DTH Drilling Machine is small and lightweight. It is suitable for places where large and medium-sized rigs cannot operate. It is convenient, flexible, and easy to operate.
2. High Efficiency and Stable Performance
YG down-the-hole drilling machine uses excellent motors, with high working efficiency and stable performance.
3. Low Noise and High-Speed Drilling
YG DTH Drilling machine uses electrical energy turned into power, with small noise and strong power. The drilling speed is 3-8 times that of the average rock drilling machine, the rock hardness reaches 9, and the drilling depth of each hour is 8-16 meters.
4. Easy to Install and Disassemble
The overall volume of the down-the-hole drilling rig is relatively small, and it is very easy to install and disassemble, which is conducive to work efficiency.
Operating Principle of Portable DTH Drilling Rigs
The working principle of the down-the-hole drilling rig is: compressed air drives the piston in the impactor, hitting the drill bit for rock drilling. When the motor is working, the electrical energy is converted into a rotating torque to the reducer to make the drill rod rotate the drill rod connected to the output shaft of the reducer. The excreted air pressure blows to the ground.
Conclusion
Since 2005, we have made remarkable achievements in the machinery manufacturing industry and won the domestic and overseas markets with the industry's trust. Above all, YG Machinery also won high praise from customers at home and abroad. We have a range of high-quality drilling rigs for sale. Besides the most popular DTH Drilling Rigs, Crawler Mounted DTH Drilling Rig, Full Hydraulic Core Drilling Rig, Water Well Drilling Rigs, Rotary Drilling Rigs, Anchor Drilling Rigs, and Horizontal Directional Drilling Rigs also enjoy great popularity.