On February 14, 2023, we exported 20 Crawler Mounted DTH Drilling Rigs to Myanmar, a Southeast Asian country. Myanmar customer Thakin expressed his gratitude for our delivery speed and smooth transportation process as soon as he received the machine. A few days ago, Myanmar customer Thakin put this machine from YG Machinery into engineering use. The high performance and high work efficiency of the machine have been highly recognized by Myanmar customers Thakin and their colleagues.
YG Machinery has always followed the tenet of manufacturing high-quality machines and providing high-quality pre-sales and after-sales services. Over the past 18 years, we have contributed our meager strength to the construction cause of countries all over the world. In the future, we will unswervingly provide the best service to all countries in the world.
Characterization
Crawler-mounted DTH drilling rig is also called an open-pit crawler-type DTH drilling rig. YG Machinery's open-pit crawler-type down-the-hole drilling rig is a new type of drilling equipment in which the technology is transferred from the traditional DTH Drilling Rigs. It is well redesigned at the demand of large-scale open-pit mines. The traveling, propulsion, rotation, and angle adjustment of the drilling rig are driven by hydraulic pressure, and the power is strong.
【Whatsapp/Wechat/Phone】+86 18337123872
Email:admin@ygdrillequipment.com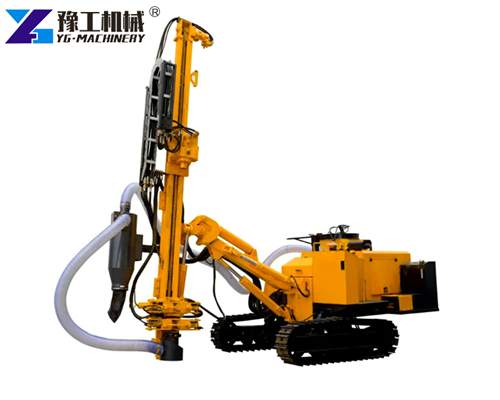 Technical Parameters Of Crawler Mounted DTH Drilling Rig
| | | | | | |
| --- | --- | --- | --- | --- | --- |
| Model | YGS100A | YGS153 | YGS180 | YGS300 | YGS350 |
| Total Weight | 5.95T | 3.8T | 63T | 6.8T | 8T |
| Walking Speed | 2.5km/h | 2.5km/h | 2.5km/h | 2.2/3.8km/h | 4km/h 2km/h |
| Diesel Tank Capacity | 85L | 70L | 85L | 85L | 225L |
| Shipping Size | 6500X2110X 2400mm | 4640X1980X 2260mm | 6600 X 2110X 2500mm | 6600X2220X 2600mm | 7600X2350X 2800mm |
| Drilling Hole Diameter | 90-146mm | 83-130mm | 90-146mm | 90-152mm | 90-165mm |
| Power Configuration | YCD4R22T-80 | YC2108 33kw/2400rpm | YCD4R22T-80 55kw | YC4DK80-T302 | YC4DK100-T304 73.5kw/2200rpm |
| Highest Horizontal Hole Height | 3.2m | 2.8m | 3.6m | 3.25m | 3.5m |
Main Application Of Crawler Mounted DTH Drilling Rig
The crawler-mounted down-the-hole drilling rig is widely used in blast hole drilling, underwater drilling blasting, and reef blasting projects in open-pit projects. For example metallurgy, mining, building materials, railways, hydropower construction, national defense construction, and earthwork.
【Whatsapp/Wechat/Phone】+86 18337123872
Email:admin@ygdrillequipment.com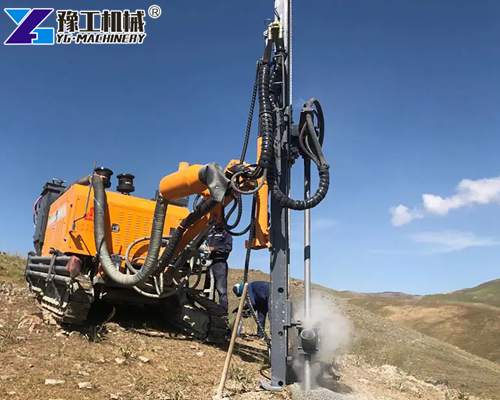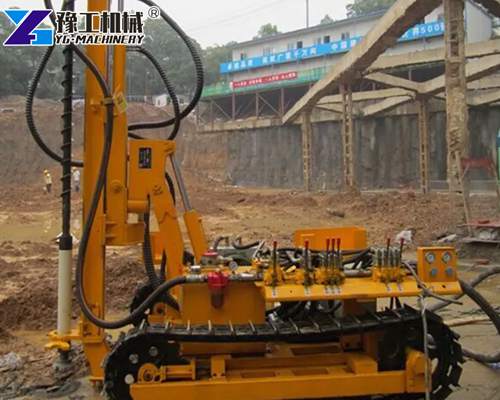 Features Of Crawler Mounted DTH Drilling Rig
1. The whole vehicle is optimized by computer, with a compact structure and beautiful appearance.
2. According to the functional arrangement, the control valve is installed, the handle is centralized, and the operation is convenient.
3. The hydraulic system of the crawler-type DTH hammer drill adopts centralized oil return filtration, and the system works stably and reliably.
4. Special structure design can realize lateral horizontal hole drilling operations.
5. Humanized design concept, to ensure the safety of drilling rig operators and night drilling rig displacement, and operation safety.
6. The special manufacturing technology of key parts and high-quality imported seals ensure the reliability and durability of the drilling rig.
【Whatsapp/Wechat/Phone】+86 18337123872
Email:admin@ygdrillequipment.com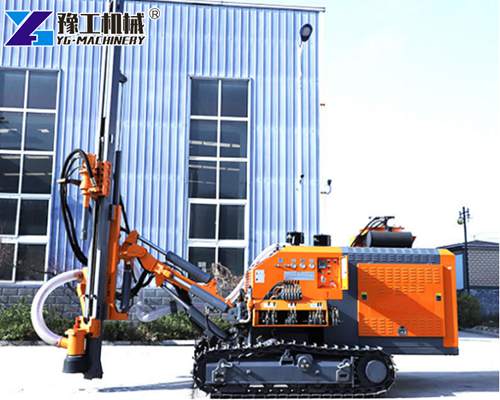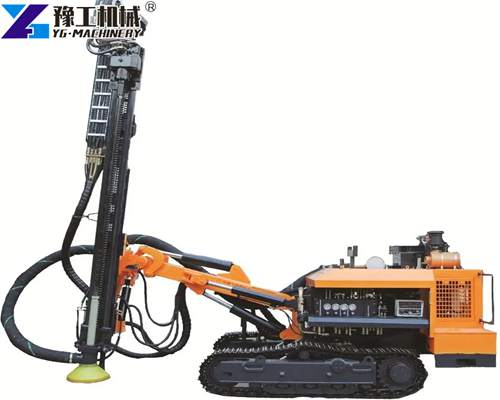 Overview
For more than a decade, YG Machinery has made extraordinary achievements in the machinery manufacturing industry. What's more, we won the domestic and overseas markets with the industry's trust. Above all, YG Machinery also won high praise from customers at home and abroad. We have a range of high-quality down-the-hole drilling rigs for sale. Besides the most popular Crawler Mounted DTH Drilling Rigs, Lock Rod Rotary Drilling Rigs,  Truck Water Well Drilling Rig Machines, Full Hydraulic Core Drilling Rig, Water Well Drilling Rigs, Rotary Drilling Rigs, Anchor Drilling Rigs, Down-the-Hole Drilling, Horizontal Directional Drilling Rigs also enjoy great popularity. If you are interested in our machine, please contact us.