On April 3, 2023, Kaka, a customer from Bangladesh, received the 5 sets of Lock Rod Rotary Drilling Rigs previously ordered from YG Machinery. Customer Kaka is the first time ordering such a large drilling rig in our company. Because of the need to carry out some large-scale projects, Kaka also chose for a long time before ordering our drilling rig. According to him, our customer service reply message made a good first impression on him very quickly. Secondly, when asked some more professional questions, our service staff answered them very clearly. The most important thing is that our product repurchase rate is very high, so he judged that we are a high-quality and professional drilling rig manufacturer company. We express our gratitude to Kaka for his sincere evaluation and promise that we will do our best to serve every customer well.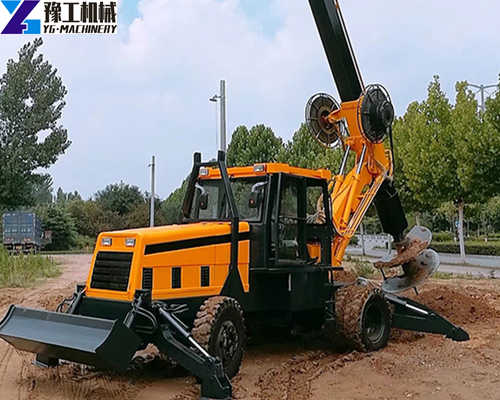 Trustworthy Of YG Drilling Equipment
Without a doubt, YG Machinery is an expert in drilling rigs and we are renowned for the various types of drilling rigs we manufacture. Lock Rod Rotary Drilling Rig, as one of the best-selling drilling rigs, has always been favored by the market. It is extremely stable, easy to operate, and easy to maintain afterward. A lock Rod Rotary Drilling Rig is definitely a rare helper in your engineering construction.
For different terrains and functions, YG Machinery also provides various models and sizes of Backpack Drilling Rigs, Horizontal Directional Drilling rigs, Crawler Rotary Drilling Rigs, Crawler Down-the-hole Drilling Rigs, Trailer-mounted Water Well Drilling Rigs, Small Water Well Drilling Rigs, Crawler Full Hydraulic Core Drilling Rigs, etc. You are welcome to contact us anytime.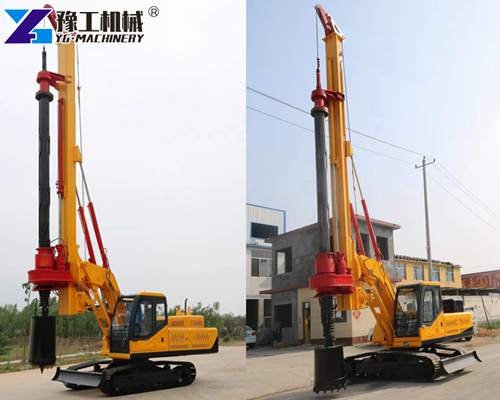 Parameter Of Lock Rod Rotary Drilling Rig
Lock Rod Rotary Drilling Rigs has a variety of models and sizes. You can provide us with your project requirements, terrain, soil quality, and a series of technical parameters. We can select or customize the most suitable drilling rig model for you.
Model
YG-5150
Max. Drilling Diameter
1500mm
Max. Drilling Depth
50m
Engine
Rated Power
174/2400r/min kW
Rotary Drive
Max. output torque
150kN.m
Rotary speed
7-33r/min

Pull-Down Cylinder

Max. pull-down piston push
120kN
Max. pull-down piston pull
160kN
Max. pull-down piston stroke
3500kN

Main Winch

Max. pulling force
160kN
Max. single-rope speed
70m/min
Diameter of the steel wire rope
30mm

Auxiliary Winch

Max. pulling force
45kN
Max. single-rope speed
54m/min
Diameter of the steel wire rope
16mm

Traveling

Max. traveling speed
2.6km/h
Min. ground clearance
340mm
Approach angle
21°
Departure angle
18°
Max. grade ability
30%
Overall Drilling Weight
48T
Dimension(Length x Width x Height)
8600×2300×3400mm
 Application Of Lock Rod Rotary Drilling Rig
The lock Rod Rotary Drilling Rig Machine is mainly suitable for constructing sandy soil, cohesive soil, silty soil, and other soil layers, and is widely used in various foundation constructions such as cast-in-place piles, diaphragm walls, and foundation reinforcement. In other words, it is mainly used in housing construction, high-speed rail catenary support, slope protection piles, urban construction, civil construction, new rural construction, power grid transformation, landscaping, and other engineering projects, and is used for filling piles, continuous walls, foundation reinforcement, and other foundations under construction.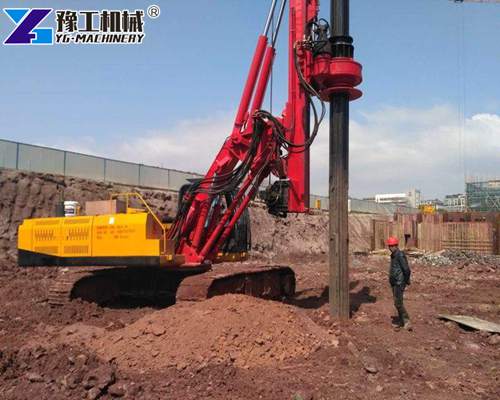 Features Of Lock Rod Rotary Drilling Rig
The high-performance electro-hydraulic control system and the engine output match the priority of energy conservation.
The power head adopts an internationally famous company, multi-level vibration technology to ensure a more stable machine construction, double hydraulic power head, large torque, doubled to extend its service life.
The mast vertical auto technology, higher pile hole vertical accuracy, and more conventional construction.
High stability, in accordance with EU safety standards perfectly designed to meet the requirements of dynamic and static stability.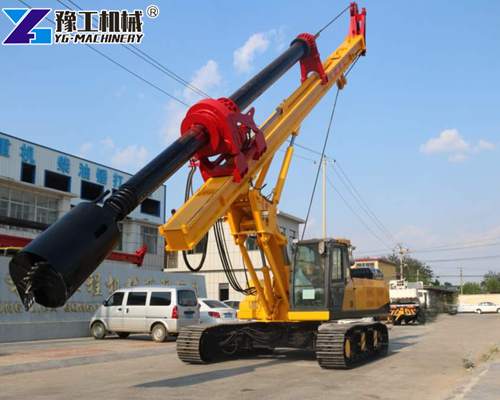 Precautions During Construction
After the completion of the drilling process, the drill pipe and the drill bucket cannot be lifted by the main winding field immediately.
Lift the power head with a pressurized cylinder.
Reversely rotate the drill bucket (opposite to the direction of drilling) for 2-3 turns.
Lift the drill bucket at a uniform speed, and it is advisable to lift at a slow speed and reverse the screw.
In the process of lifting the drill bucket, please carefully pay attention to whether the drill pipe and the mast increase their weight in an instant and then go down when they are lifted to the length of a section of drill pipe.
If you feel that the rotary drilling machine does not "nod", you should immediately stop the lifting of the drill bucket, lower the drill bit to the bottom of the hole, and repeat the previous operation until you feel "nodding".
Conclusion
It is not difficult to choose a rotary drilling rig with high safety, high work efficiency, and good quality. For those who have construction needs, the Lock Rod Rotary Drilling Rig, which is technically innovative on the basis of traditional rotary drilling rigs, has more advantages in construction. Relying on the most professional technology, the best service, and the best quality, YG Machinery has won many overseas customers. Among them, customers from Bangladesh, Chile, the Philippines, Nigeria, Serbia, Vietnam, Laos, Peru, and other countries trust us. We live up to expectations and strive to develop in a better direction.